Show your Christmas spirit next week! Don't forget to dress up each day for a little holiday fun!
Washington DC updates: Hungry Howies gift cards will be here next week. Information about scholarship's and the opportunity to represent CMMS at Arlington National Cemetery has been sent out (a pink form). Applications are due January 25.
CMMS has wrapped up their Shoe Drive Fundraiser. We collected 1,950 pairs of shoes that are now being sent to underdeveloped or impoverished countries. We would like to thank Hopevale Church and New Life Missionary Church for helping us with our drive. We appreciate their help. For our efforts, CMMS will be receiving approximately $800 from funds2orgs. for our collection.
Reminder 8th graders the Hungry Howies fundraiser is due tomorrow! Checks made to CMMS.
This Friday is your last opportunity to donate your gently worn or new shoes to our Shoe Drive fundraiser. The truck will be here next week to pick up our donations. Please deposit your shoes in the box in the foyer here at CMMS. We appreciate your support!

REMINDER: Tomorrow is the Christmas ornament painting event! Students that signed up need to bring cash and be ready for fun. (The cost is $5 per ornament in addition to a concession stand) Students will have from 2:30 to 4:30 to paint. We have well over 100 painters signed up!
CMMS could use your help! With the holidays fast approaching, please remember to clip your BoxTops for Education, Tyson A+ program and the Aunt Millie's School Spirit package signs. We desperately need you to send these items to school. Each one is worth 5 or 10 cents to us!! Also, sign up for the ShopARoo app. Just scan your purchases and a percentage comes back to our school! Happy Holidays!!!!
Ready to shop for Christmas? The CMMS OnLine Store is now open! Visit our store at
https://cmmsspiritwear2018.itemorder.com
and look through our selection! The store will be available until Nov. 30th with delivery by December 17th! We will also have items available on location at CMMS. Stop by during school hours.
7th graders your fundraiser for your end of year field trip ends Monday! Turn in money and order forms to your science teacher no later then Monday 11-19-18. All orders will be in before Christmas break.
8th graders the 3rd bus for Washington D.C. is open make sure to get your deposits in. As soon as deposits are in locking down your space on the trip, profits from the 1st fundraiser will be sent to company. We still have plenty of spaces available if anyone is interested.
Attention 8th graders going to Washington D.C. our 2nd fundraiser- Hungry Howie's will be sold from Nov. 7- Nov. 30. Pizza's will sell for $8.00, students will make $5.00 on each pizza sold. The certificates come in a cute little pizza box great for stocking stuffers!

The list of students receiving awards at next week's assemblies is now posted to Skyward The schedule for the 1st marking period award assemblies are as follows: November 14th – 6th Grade @ 11:45 am November 15th – 7th Grade @ 9:00 am November 15th – 8th Grade @ 11:45 am

On November 27th, CMMS with be pairing with Painterly Pottery to host an ornament painting event. Cost is $5 per ornament, cash only. Students need to return the form with the number of ornaments they want to their flex teacher ASAP. Hope to see everyone there!
(8th graders) If there is any problems with the first fundraiser please send the slip with your child by this Friday so Mrs. Wilford can get it taken care of.
Any 8th grade student and/or parent still interested in going to Washington DC the registration is still open! We still need 5-10 people to register to open up a 3rd bus. Any questions please contact Mrs. Wilford ASAP.

This is just a friendly reminder that tomorrow (November 1st) is a half day for our students. Dismissal will be at 10:30 am.

The 1st marking period award assemblies are as follows: November 14 – 6th Gr @ 11:45 am November 15 – 7th Gr @ 9:00 am November 15 – 8th Gr @ 11:45 am The list of students receiving awards will be posted to Skyward no later than the afternoon of Friday, November 9th.

CMMS is currently looking for an energetic, positive, and fun loving person to supervise and support our students during our lunch hours. If you are interested in a part-time position as one of our noon-aides, please contact the assistant principal, Renee Mrozinski, by e-mail at
mrozinskir@bangorschools.org
or by phone at 686-7640 x3205. Please see the attached job posting for additional information.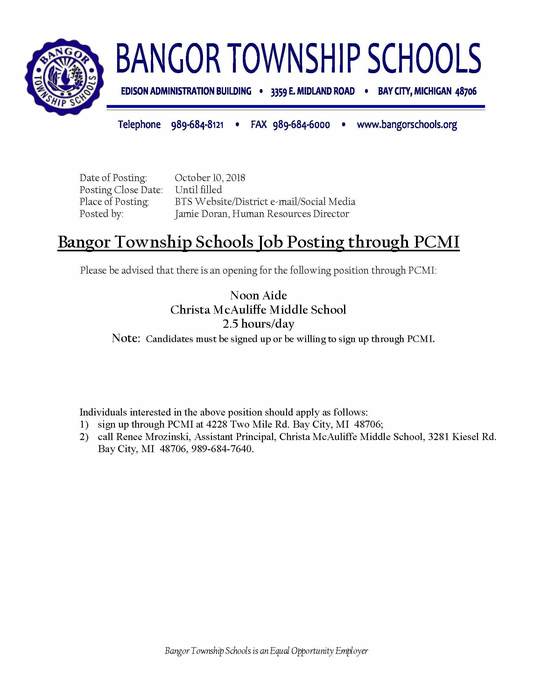 ***CORRECTION*** There will not be boys basketball tryouts on October 31st (Halloween). There will be a final tryout date on November 1st from 4:00-5:30 pm.