EDIT MAIN
From the Superintendent's Desk to the Bangor Township Schools Community.
April, 2018
In an effort to better communicate with our Bangor Township Community, we will be transitioning to a new website in the month of April. We will also be launching a new mobile app to go along with the new website. The app will contain the most up to date information regarding athletics, food menus, news, and so much more. Be sure to download the app to your Android or IOS supported mobile device to keep updated on the go.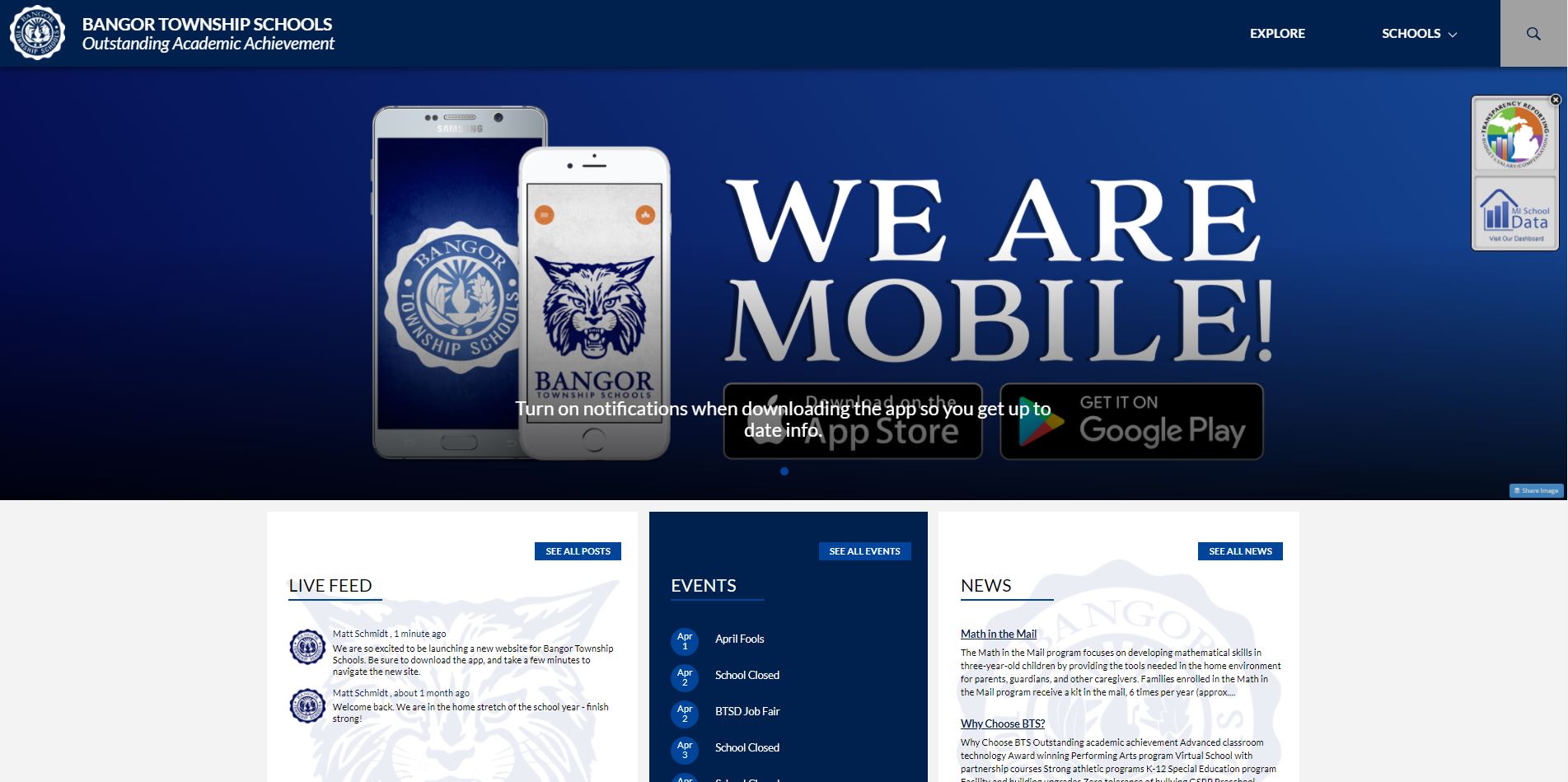 The new site will be integrated with multiple social media platforms, which will allow us to push out a common message to our stakeholders. We will also be able to send out push notifications to mobile devices. Should there ever be a safety issue in our district, or if we need to communicate a pressing issue to users, the notifications feature will allow us to get a message out to all users that have downloaded the app and allowed notifications form BTS. It is our hope that the launch of the new website and mobile app will further show our commitment keeping an updated and informative digital footprint for all of our users. We hope you like the new look, and we encourage you to browse the new website and to download the new mobile app.
With Bobcat Pride,
Matthew Schmidt
Superintendent
---

December, 2017
With another holiday season upon us, it is important to give thanks for all the things that make Bangor Township Schools the premiere school district in The Great Lakes Bay Region. We have come a long way in our 50 plus years of existence, and our success is due to so many incredible individuals and families that have passed through the doors of our schools. It is also due to the never ending support our of community - those families without children and our senior population that, in spite of no longer having children in our schools, continues their unwavering support for our schools and our students. Lastly, no school district would be as successful as ours without the steadfast support of the business community in Bangor Township and the surrounding Bay City area. Without their continued support, we would not be able to offer as much of a total educational experience to our students as we do. Together, we all work seamlessly to provide wonderful academic and extracurricular opportunities for all the students we serve. I speak for the entire staff of our school district when I say thank you to all of our stakeholders - together we have made Bangor Township Schools the premiere school district in The Great Lakes Bay Region.
Hopefully, during this busy holiday season, you will have time to flip through our December edition of The Report Card. Inside the pages of our quarterly publication you will see the amazing things that are taking place in our classrooms and in our buildings - students achieving at high levels, experiencing new learning opportunities, and building communities of trust in their classrooms. You will also see the parents and community members who, on a daily basis, engage with and support our students. It is because of their support and willingness to do their part for kids, that new relationships and learning opportunities arise. Together, we do accomplish more, and our school district is exceptional because of our willingness to work together and support every child in their learning.
From all of us in the Bangor Township Schools to all of you in our community, we hope you have a safe and memorable holiday season. We certainly give thanks to all that you do to support our mission of providing a quality educational program for all our students.
With Bobcat Pride,
Matthew Schmidt
Superintendent