EDIT MAIN
From the Superintendent's Desk to the Bangor Township Schools Community.
June 2021
Students, Families, and Staff:
I believe we can all agree the 2020-2021 school year was unlike any other. The COVID-19 pandemic challenged our physical, social, and emotional well-being and forced us to redefine education. With safety of students and staff as our main concern, district leadership worked tirelessly to create action plans and learning options that would ensure our school year could move forward… even if it looked different than we anticipated. Every decision made presented new challenges that impacted all members of our educational community, and our #BobcatNation pressed forward through it all.
As the summer approaches, we are all craving the same thing: normalcy. With positive cases on the decline and restrictions relaxing, the 2021-2022 school year should help us return to the normal routine we have been hoping for. When we return in August, Bangor Township School intends to have traditional school days with in-person learning, student locker usage, a conventional lunch period and recess, and all the other things that go along with a traditional school day and year. We were able to remove desk shields for the end of our current school year, and we hope we can say "good-bye" to masks in the near future. Our students need the normal routine back, and we are ready to see their smiling faces again.
This year has taught us a lesson in perseverance, but I believe another important lesson learned is that of gratitude. Thank you for your passion and patience for our students and their well-being. Thank you for trusting us with the safety, care, and education of your children. Thank you for staying engaged and motivated through every change and barrier we encountered. We hope we reinforced your trust in us throughout the pandemic and helped to assist you inside and outside of the classroom during this unprecedented time. Our ability to work together and to trust each other is what makes our school district and community so exceptional.
Enjoy your summer, and stay safe, Bobcats! We look forward to opening our doors on Monday, August 30th for a normal in-person school year.
With Bobcat Pride,
Matt Schmidt
Superintendent
---
From the Superintendent's Desk to the Bangor Township Schools Community.
may 2020
We are excited to announce that our school district now offers an Early Middle College. On top of outstanding class offerings at John Glenn, excellent career center programs, and dual enrollment options, the early middle college will offer another track for students to choose in order to be prepared for their life's path after high school. The needs of students and families are rapidly changing, and our school district is proud of the fact that we are innovating to meet those needs.
The Early/Middle College (EMC) in Bangor Township Schools gives students an opportunity to earn 30 college credits that satisfy the Michigan Transfer Agreement, an associate's degree, or a career certificate along with their high school diploma. Students will be able to save both time and money as they pursue a college degree, and they will have an additional year of high school (13th grade attending college full time) to complete their college program at Delta College or Davenport University. Students can only enter the EMC in their junior year. All classes and fees are paid for by the school district. The only thing the student or family is responsible for is transportation and parking.
The EMC is a partnership with our local intermediate school district (BAISD), and college classes will be offered at the BAISD Career Center, the Delta College Planetarium, and on the campuses of Delta College and Davenport University. Students can also choose to take online classes as well. A student entering the EMC will be taking some classes at JGHS and/or the career center and some at the college level during their junior and senior years. If they choose to continue on for a 13th year, all their classes will be at Delta College or Davenport University.
There are four potential tracks for students who wish to attend the EMC: (1) a career center student who wants to gain some college credit while also graduating with a certificate in their given trade, (2) a career center student who does not want a certificate in their trade, but wants to gain college credit, (3) a non career center student who would like to get the 30 college transfer credits that will transfer to any college or university in Michigan, or (4) a student who wants to receive an Associate's Degree. For a detailed description of any or all of these tracks, students and parents should schedule an appointment with the College and Career Advisor at JGHS.
Students who consider the EMC must be hard working, motivated, and up for the challenge to perform successfully at the college level. In addition to the college coursework, students must successfully complete all of the requirements of the Michigan Merit Curriculum. Complete support and wrap around support services will be provided for students while they are in the EMC program.
A huge thank you to our Bangor Township Board of Education for voting to support this wonderful opportunity for students. Their vision and commitment to students made this opportunity possible.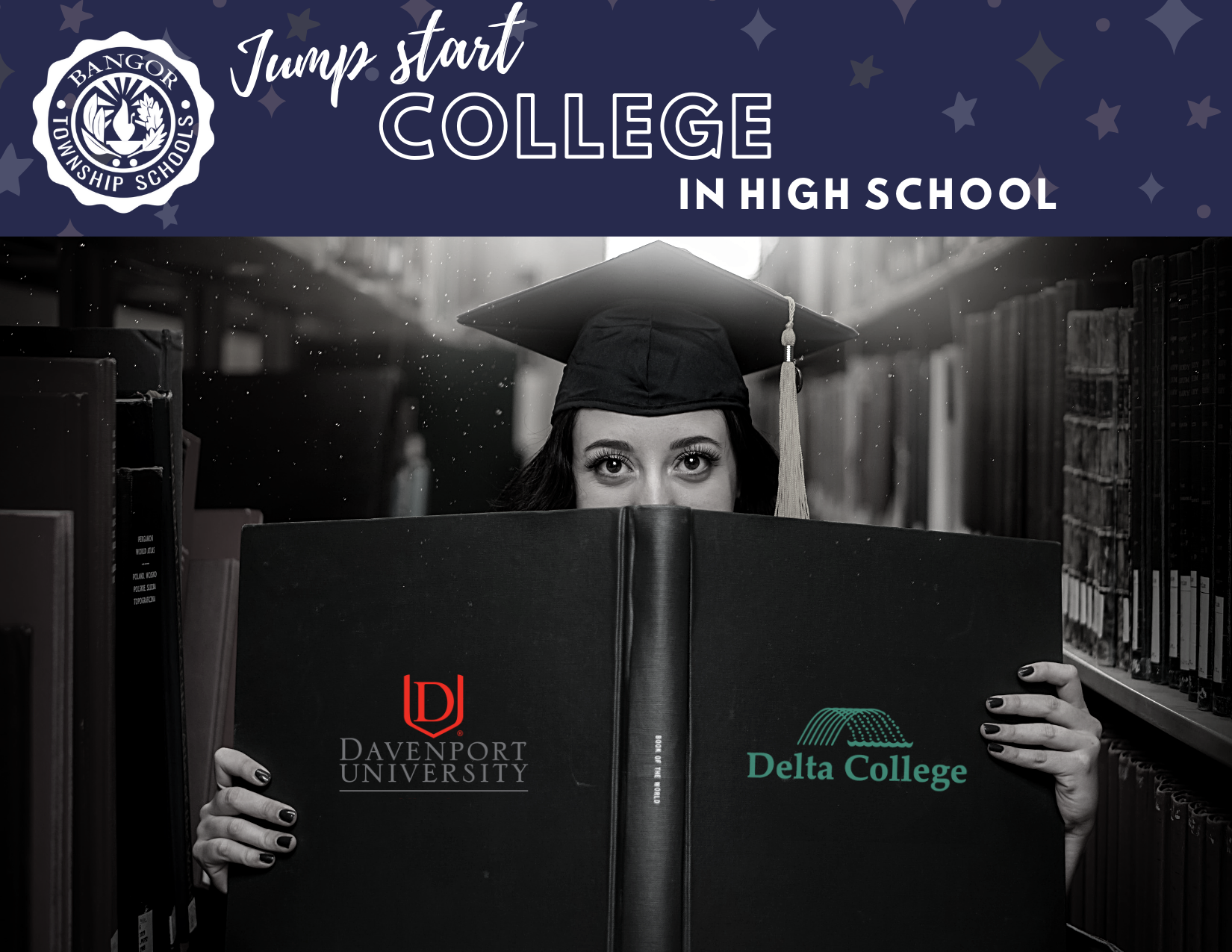 With Bobcat Pride,
Matthew Schmidt
Superintendent
---
From the Superintendent's Desk to the Bangor Township Schools Community.
December 2019
The new year brings with it a lot of excitement and celebration in Bangor Township Schools. We are excited about improving on all the offerings we provide our students and community, and we are celebrating the accomplishments of our students and staff.
We are proud that we serve and care for students from ages three to 18. We have a childcare program at Bangor Central that serves our youngest students and children, offering a full day program as well as before and after school care. We also have a preschool program at Bangor North that serves our four year olds - preparing them for the rigors of their K-12 education. To also prepare our students, we have a Young 5's program that serves our four and five year old students who need that extra time to be better prepared for kindergarten. We are proud that we have built a support system to help our littles be prepared for their K-12 education.
At our elementary buildings we are excited and invested in educating the whole child. We know that for our students to be successful, they need to be strong not only academically, but also socially and emotionally. We support them in their development as young people by providing rigorous academics as well as a focus on building positive relationships through the Positivity Project. In addition, we have also added in layers of support for our students by making sure that we have a Student Services Coordinator and social worker in every building. We have also partnered with the Department of Health and Human Services (DHHS) to provide a DHHS worker in our elementary buildings to better support our students and families. With all the support in our early childhood and elementary programs, we believe we are setting our students up for a bright and successful middle and high school experience.
At our middle school, our focus is on academics and building future leaders. We are proud of our academic offerings - which include core and explore classes, advanced classes, and offerings in leadership, technology, STEM, and many other exciting and relevant classes that prepare our students for high school. Additionally, just like in our elementary buildings, we have built in support for the whole child by having a counselor, social worker, and a behavioral specialist in the building to further meet the academic, social, and emotional needs of our students. Lastly, our Leader in Me program helps us create well-rounded learners by developing the whole-person and preparing students to become life-ready leaders. We have seen our students take on leadership habits and roles in middle school that will ensure they are successful in high school and in life.
Once in high school, our students have so many wonderful opportunities that will allow them to have a memorable high school experience and will prepare them for their career path and life after high school. Our offerings include core and advanced placement classes, dynamic elective offerings, work-based learning opportunities, dual enrollment at our local colleges, and Career Center programs through our ISD that allow students to better explore career offerings and pathways. Additionally, our students have numerous leadership, club, and athletic offerings to choose from; all of them helping them develop into better leaders, teammates, and young people. To support their academic, social, and emotional needs, along with preparing them for their next step after high school, we have three high school school counselors who serve in multiple roles to guide and assist students.
As an alternative to our traditional educational paths, more and more of our students are choosing to be educated in a virtual setting. In Bangor Township Schools, we are meeting their needs through our Bangor Township Virtual School (BTVS). We are proud of the fact that we have numerous traditional and non-traditional offerings in our virtual school - including all core and most elective classes. BTVS also offers non-traditional community partnership classes such as art at Studio 23 and Horsemanship with a local stable to name a few. Our virtual students also have access to dual enrollment classes at our local colleges, work-based opportunities, and they can attend the Career Center as well. BTVS is just one of the ways that we are adapting to the changing needs of our student population.
We are extremely excited as 2020 gets into full swing. From our childcare program to our 12th grade graduation, we are celebrating the fact that we offer quality educational and extracurricular programs for our students, families, and community, and we are committed to improving our offerings and programs each and every year. We are also aware of the increasing need to support the whole child, and we have put people and programs in place to better support our students academically, socially, and emotionally. Our district vision is to be committed to providing dynamic learning experiences that prepare students for the opportunities of tomorrow, and we will remain committed to this vision as the needs of our students and community change.
---
From the Superintendent's Desk to the Bangor Township Schools Community.
August 2019
Once a Bobcat always a Bobcat! As I begin my seventh year with Bangor Township Schools, I can't tell you how many times I hear this across our district and in our community - by current and former students of ours. Being a Bobcat is special, it's a badge of pride that takes us back to a time in our lives when we were developing into the people we are today. Being a part of the Bangor Township Schools family is special, and something that our board of education and staff value. We strive to serve our students, families, and community with the highest level of service and education possible. We know that to make our community better, we have to do our best in educating our youth, be good stewards of your tax dollars, and always commit to being an integral part of making our community better. Every school year we recommit ourselves to these ideals, and the 2019-20 school year is no different.
As our students head back to school this year there are several significant improvements that have taken place over the summer - some our students and families will see and some they won't:
Boilers - We have replaced our pool boiler at JGHS - as the old one was no longer operational.
Tennis Courts - we are resurfacing our tennis courts at JGHS as they were in need of repair and resurfacing.
Parking lots - we have resurfaced and relined our parking lots at JGHS and CMMS.
Virtual School - the location will be changing this year. Instead of the virtual school being located at our Edison Administration Building, it will now be located in the plaza where Kmart used to be located - it will be in the retail space between Grondin's and Souper Cafe.
1:1 at JGHS - we are excited that our high school will be going 1:1 starting this school year. Every student will be receiving a Chromebook laptop to use both at school and at home, and they will keep the device once they graduate. Our goal is to be 1:1 district wide by the end of the 2020-21 school year.
LED lighting throughout the district.
Being good stewards of taxpayer money is something we do not take lightly. We want to use those dollars to keep our schools and facilities in great shape as we know they are a reflection of our greater Bangor Township community. While the improvements listed above are needed, perhaps none are as important as the renovations that took place to all our building entrances over the summer.
All five of our main school buildings had their entrances renovated over the summer. With a safety grant we were awarded in the spring from the Michigan State Police and State of Michigan, we were able to renovate and harden our entrances to make all of our buildings safer. When students and families enter our buildings they will see and feel the difference. No longer will there be easy access to various parts of our buildings - visitors will be confined to the main entrance area unless granted permission to enter the main part of the building. Then, if they are granted that access, they will need to sign into our visitor system with their drivers license and wear a visitor badge while in the building. However, we find that 85-90% of visitors never need to do that as they are usually there to drop off or pick up their child, or to drop something off to them. These instances will now be handled in the entrance area.
Please be patient with us as we implement this new approach to serving our students, families, and community. These renovations were done with the goal of making our buildings safer for students and staff. This, along with the addition of our school resource officer, are a few of the safety upgrades we will be making for our district.
I hope this communication gave you enough information so that you are updated on where we are at in terms of our progress. If you should ever have any questions, please do not hesitate to contact me. We are looking forward to a great 2019-20 school year. Go Bobcats!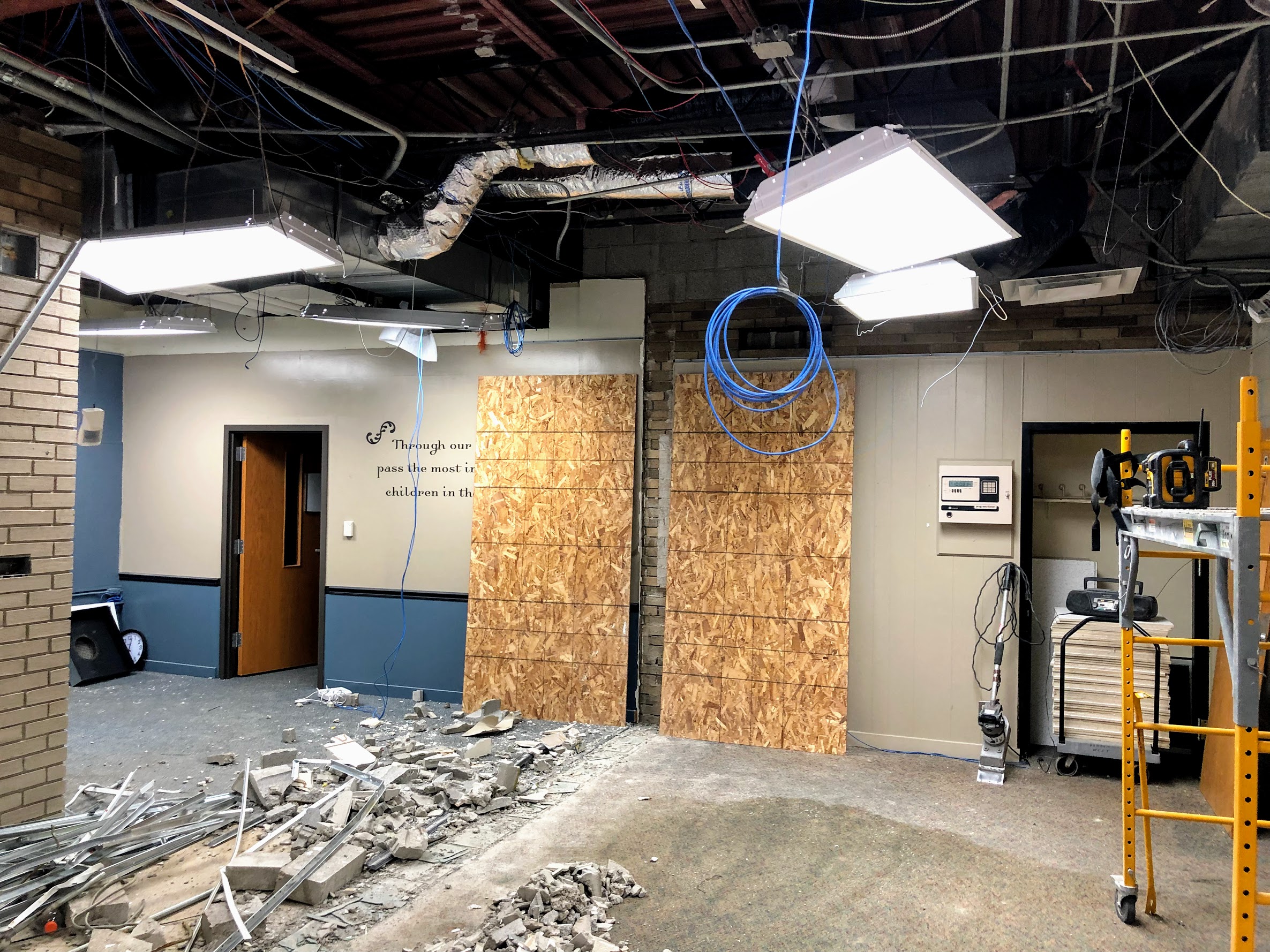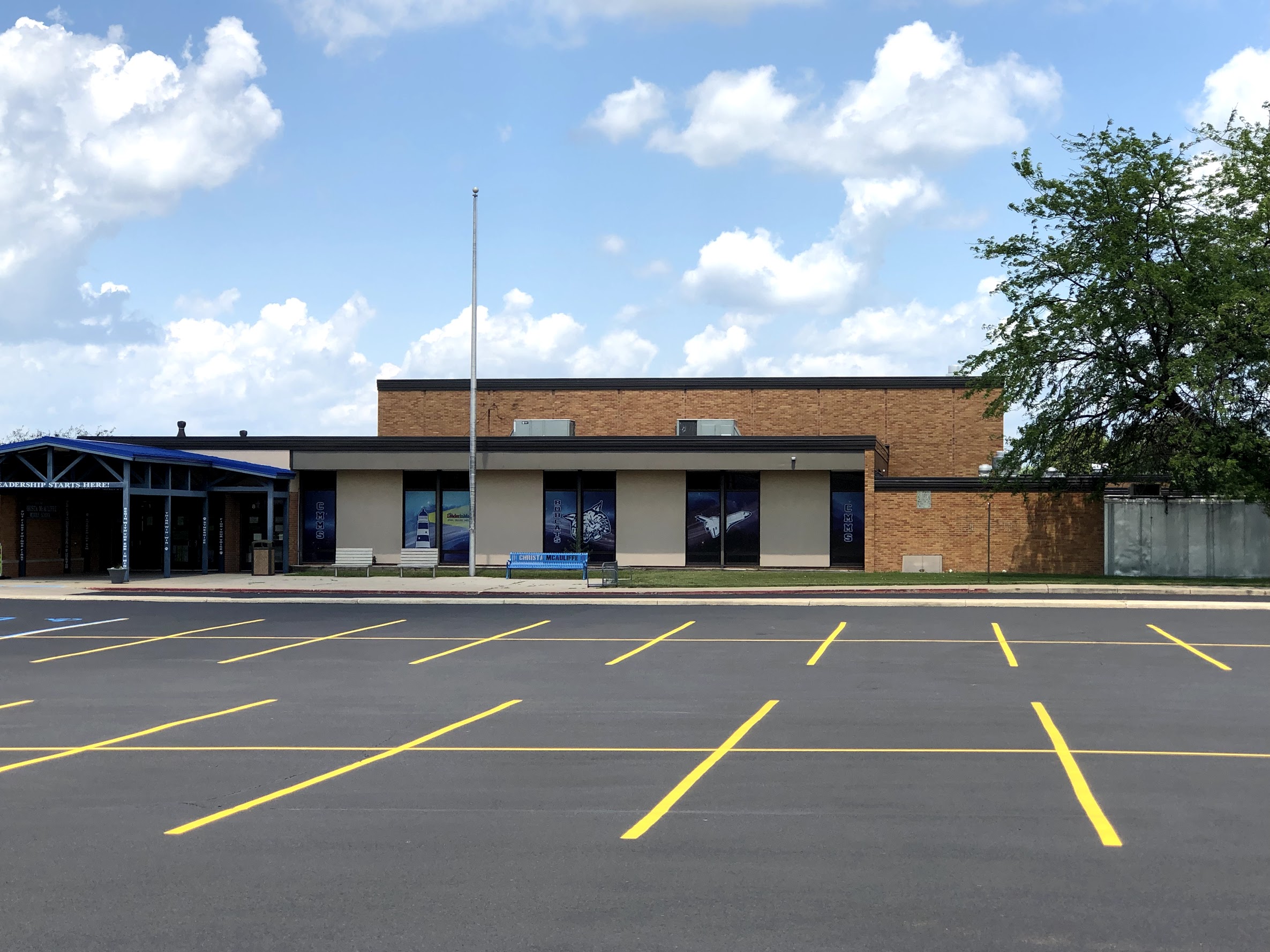 With Bobcat Pride,
Matthew Schmidt
Superintendent
---
From the Superintendent's Desk to the Bangor Township Schools Community.
January 2018
We hope you enjoy our latest video spotlight - highlighting some of the great things happening in and around our district.
---
From the Superintendent's Desk to the Bangor Township Schools Community.
October 2018
We hope you enjoy our first ever video spotlight - highlighting some of the great things happening in and around our district.
---

August 2018

The start of the 2018-19 school year brings with it back-to-school excitement, lasting memories to be made, and friendships to be found and built upon. It also brings a renewed focus on school safety, as we know that our number one goal is to keep all students and staff safe. In Bangor Township Schools, from the school board and the employees, we are putting new safety measures in place in order to be ready for the return of students and staff.
One of the first safety measures that we are implementing this year is the addition of a school resource officer for the district. We are partnering with the Bay County Sheriff's Office to house an officer on the campus of John Glenn High School and Christa McAuliffe Middle School. However, the officer will be servicing all buildings in Bangor - educating students and staff on school and internet safety, being a resource for all safety issues, as well as being a presence at our buildings and at events. With all of the safety concerns around the nation, particularly in schools, the addition of a school resource officer is a must.
Another safety measure we are putting in place deals with the hardening of our entrances and location of the offices at our buildings. The State of Michigan recently approved $25 million in grants for school districts to apply for in order to address safety issues in their districts. We will be applying for this grant in hopes of getting state dollars to help us better locate the offices in our buildings and to redesign how the public accesses our buildings and offices.
A third safety measure we will be implementing this year is a new visitor system at all our buildings. We piloted the system last year at Bangor Lincoln, and it worked very well. This is something we must do in order to control the access the public has to our schools and our students. Be patient, as this will be a new initiative, but the payoff is a much safer system that will better protect kids, while controlling who is entering our buildings.
Lastly, our entire staff will receive another round of school safety training when they return to work this year. The training will be followed by an active shooter simulation in the building by The Michigan State Police SWAT team (no students will be present). The training and simulation are another much needed step in our continued focus on being better prepared if a safety issues arises.
Please know that we are committed to keeping all students and staff safe, and we are allocating the necessary time, training, and resources toward this commitment. Through our partnerships with the Michigan State Police and the Bay County Sheriff's Department, we have been able to focus our efforts toward hardening our buildings and better protecting students and staff. We take pride in our district, and we strive to provide the best experience to all our students and families, and it all starts with keeping everyone safe. If you should ever have a question, concern, or idea regarding school safety, please do not hesitate to reach out to me.
With Bobcat Pride,
Matt Schmidt
Superintendent
---
April 2018
In an effort to better communicate with our Bangor Township Community, we will be transitioning to a new website in the month of April. We will also be launching a new mobile app to go along with the new website. The app will contain the most up to date information regarding athletics, food menus, news, and so much more. Be sure to download the app to your Android or IOS supported mobile device to keep updated on the go.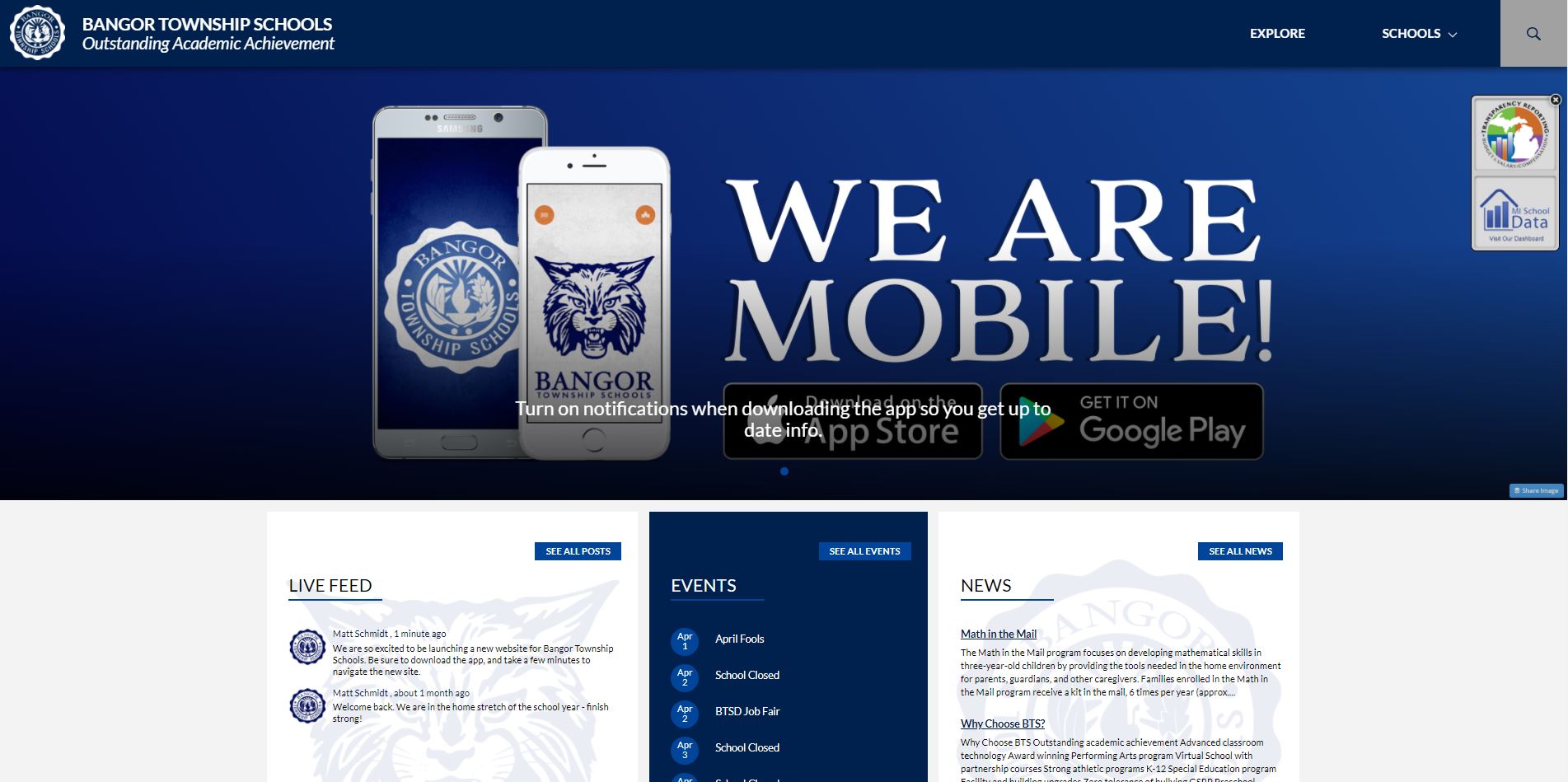 The new site will be integrated with multiple social media platforms, which will allow us to push out a common message to our stakeholders. We will also be able to send out push notifications to mobile devices. Should there ever be a safety issue in our district, or if we need to communicate a pressing issue to users, the notifications feature will allow us to get a message out to all users that have downloaded the app and allowed notifications form BTS. It is our hope that the launch of the new website and mobile app will further show our commitment keeping an updated and informative digital footprint for all of our users. We hope you like the new look, and we encourage you to browse the new website and to download the new mobile app.
With Bobcat Pride,
Matthew Schmidt
Superintendent
---

December 2017
With another holiday season upon us, it is important to give thanks for all the things that make Bangor Township Schools the premiere school district in The Great Lakes Bay Region. We have come a long way in our 50 plus years of existence, and our success is due to so many incredible individuals and families that have passed through the doors of our schools. It is also due to the never ending support our of community - those families without children and our senior population that, in spite of no longer having children in our schools, continues their unwavering support for our schools and our students. Lastly, no school district would be as successful as ours without the steadfast support of the business community in Bangor Township and the surrounding Bay City area. Without their continued support, we would not be able to offer as much of a total educational experience to our students as we do. Together, we all work seamlessly to provide wonderful academic and extracurricular opportunities for all the students we serve. I speak for the entire staff of our school district when I say thank you to all of our stakeholders - together we have made Bangor Township Schools the premiere school district in The Great Lakes Bay Region.
Hopefully, during this busy holiday season, you will have time to flip through our December edition of The Report Card. Inside the pages of our quarterly publication you will see the amazing things that are taking place in our classrooms and in our buildings - students achieving at high levels, experiencing new learning opportunities, and building communities of trust in their classrooms. You will also see the parents and community members who, on a daily basis, engage with and support our students. It is because of their support and willingness to do their part for kids, that new relationships and learning opportunities arise. Together, we do accomplish more, and our school district is exceptional because of our willingness to work together and support every child in their learning.
From all of us in the Bangor Township Schools to all of you in our community, we hope you have a safe and memorable holiday season. We certainly give thanks to all that you do to support our mission of providing a quality educational program for all our students.
With Bobcat Pride,
Matthew Schmidt
Superintendent