Students interested in playing youth football next year please see the attached photo for upcoming registration on Thursday May 20th at the JGHS Football Stadium!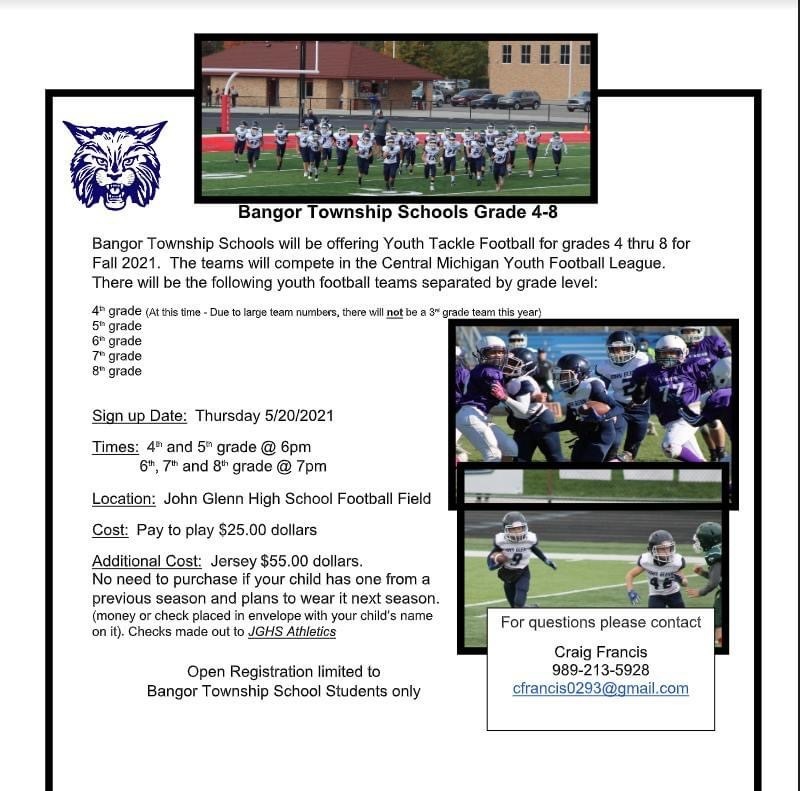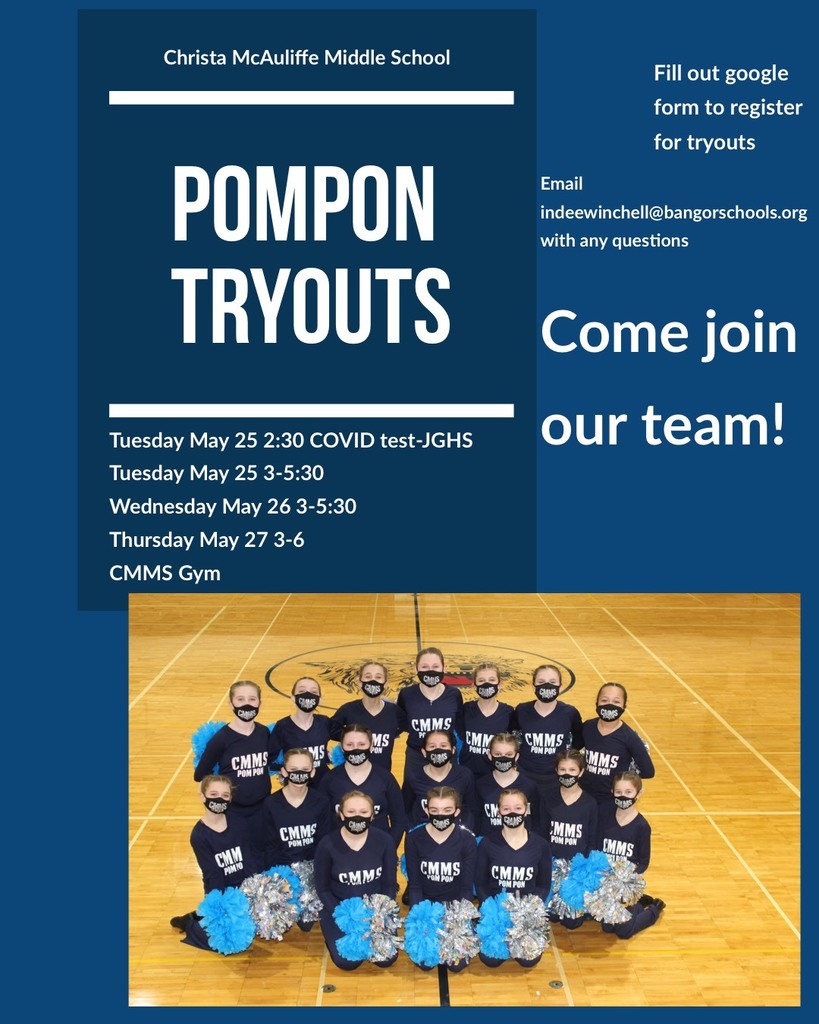 Want to be part of the 4-time repeating STATE CHAMPION JGHS Pompon Team? Information for the 2021-22 School Year tryouts are attached in the photo.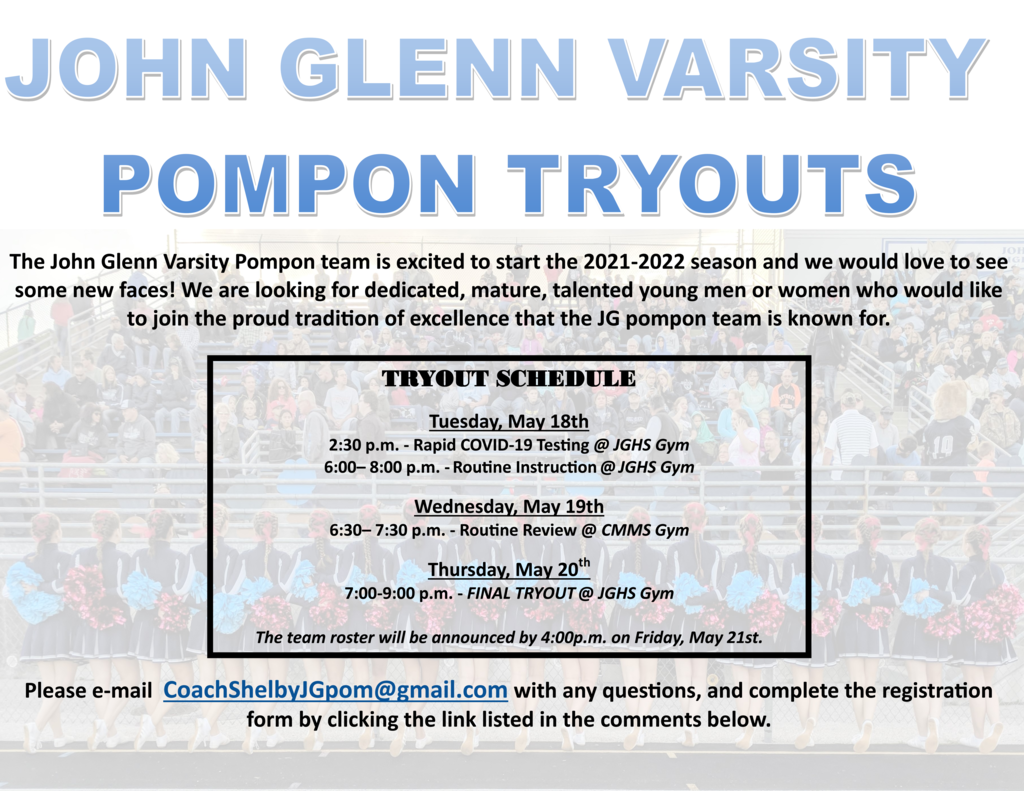 Current CMMS 8th graders and Current JGHS 9th through 11th graders interested in cheering next year for the JGHS Sideline Cheer team please see below for tryouts on May 11th and May 13th. Please register by emailing Coach Madison at
jgcheerleading@gmail.com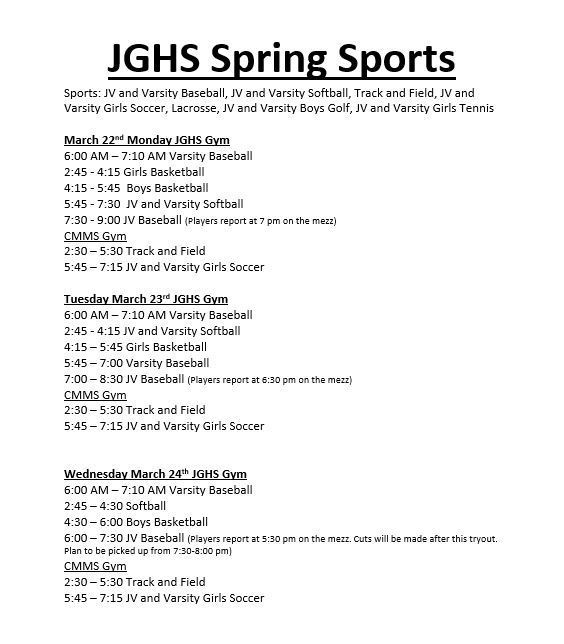 Coach Hartt is hosting a JGHS Baseball Meeting Thursday March 18th, CMMS Gym 6 pm, for students interested in playing baseball this Spring Grades 9-12. Please wear your facemask. Thanks

Bangor Township Schools girls in Grades 1st through 8th interested in playing youth softball, Coach Clyde is having a Youth Softball Meeting tomorrow (Wednesday) March 17th at 7 pm in the JGHS Auditorium. Please enter through the John Glenn High School Athletic entrance.

JGHS Volleyball Coach Madison Seegraves has the Offseason Conditioning Schedule set for the girls through June. Please see attached calendar and if you have any questions please contact coach at
16seegravesm@e-hps.net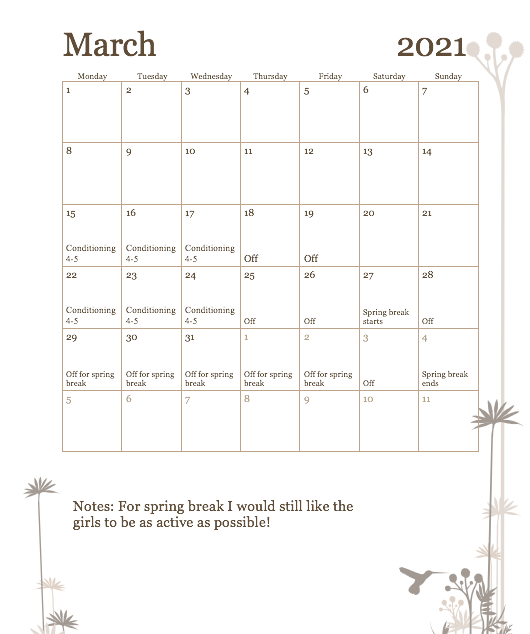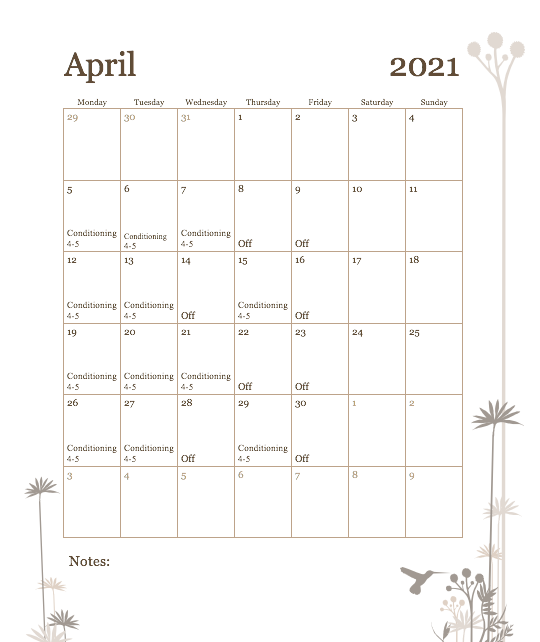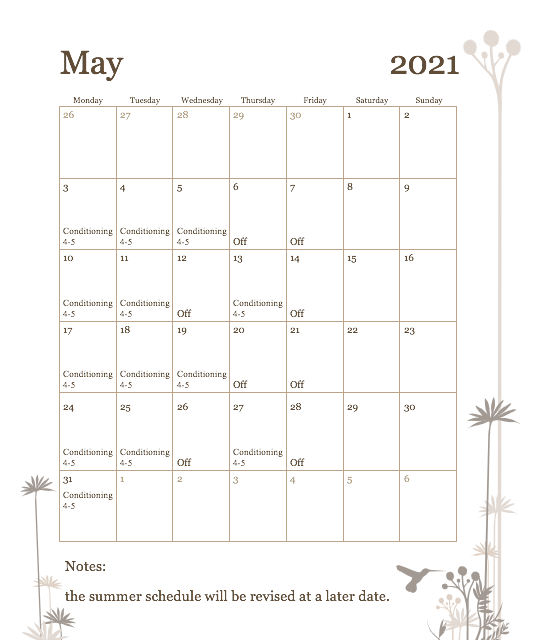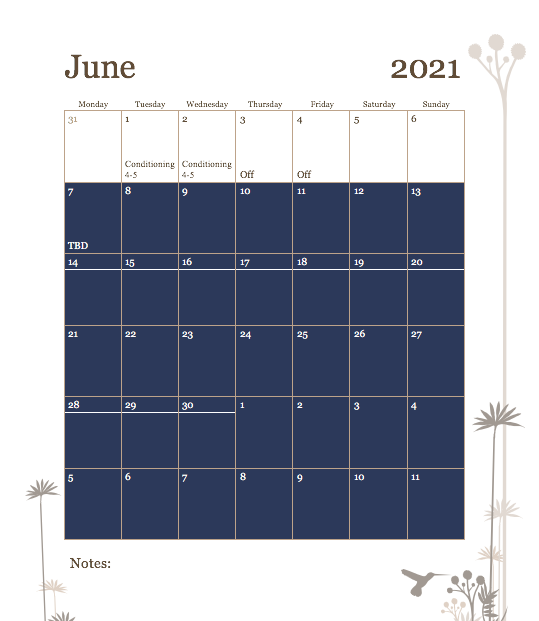 CMMS Boys students interested in swim, please see the attachments and calendar from Coach Bob LaRocque.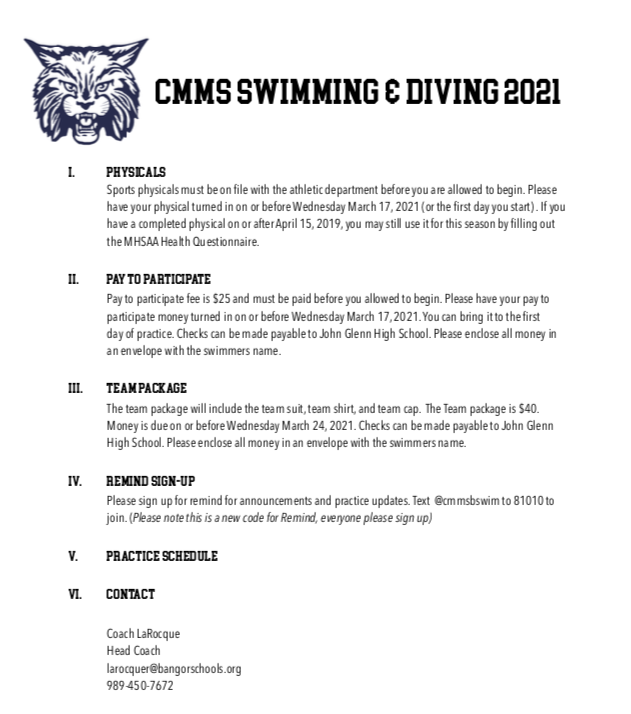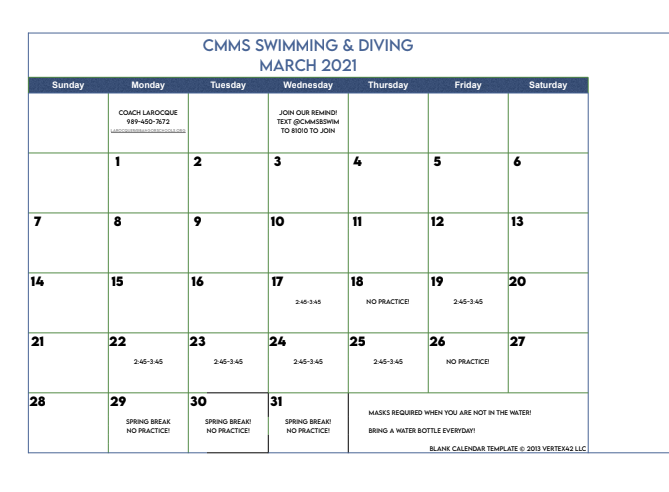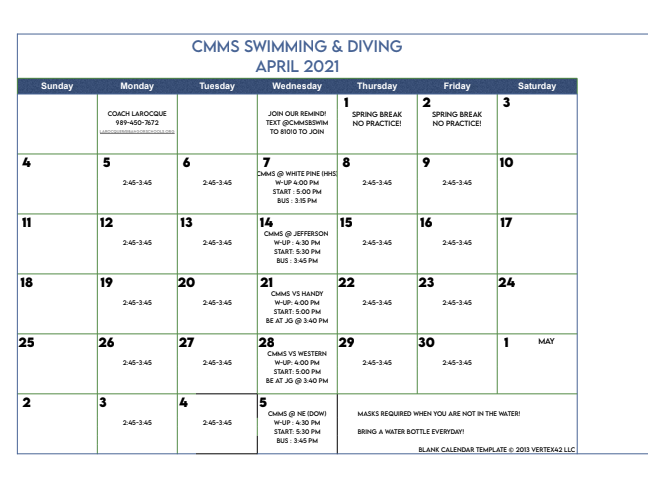 JGHS students interested in Spring 2021 Track and Field - Please see the attached Off-Season Conditioning flier. Conditioning begins Monday March 1st in the JGHS Commons/Cafeteria area. Questions can be directed to Coach Matt Kaczor
kaczor00@hotmail.com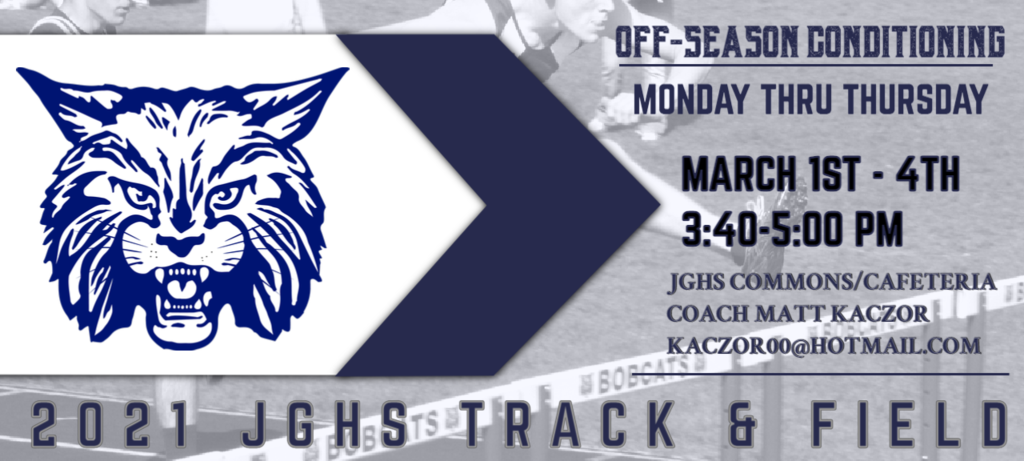 JGHS Girls interested in playing Soccer this Spring - Off Season Conditioning and open gyms begin next week. Please see the calendar attached for full details!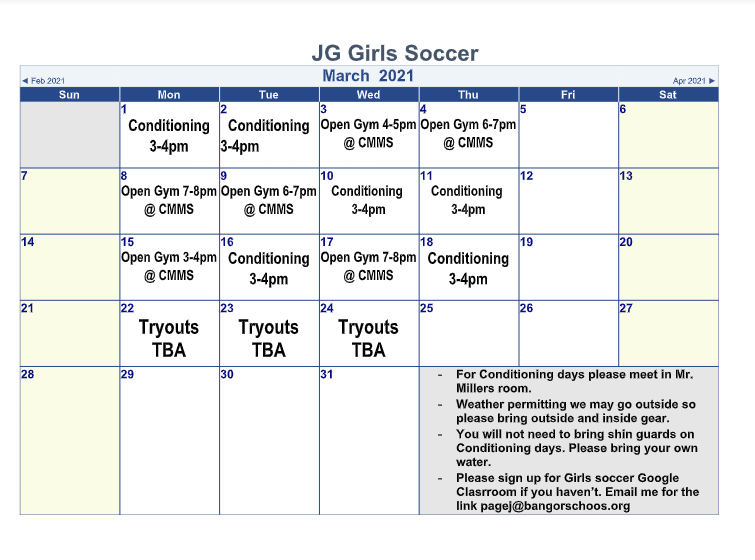 Reminder for TODAY - Coach Kowalski is holding a Spring 2021 Boys Lacrosse Player/Parent Zoom Meeting Today Wed. February 10th @ 4:30 pm. The link to the meeting is below and Coach will be going over details for the season, as well as collecting uniform and equipment sizes. If you cannot attend the meeting please contact Coach Kowalski at
aaron.kowalski@nexteer.com
Topic: Saginaw Bay Wildcats LAX Meeting Spring 2021 Time: Feb 10, 2021 04:30 PM Join Zoom Meeting
https://us04web.zoom.us/j/76731429231?pwd=bmpOTEZxMUNIRjNGM0lQVUdpU0JmUT09
Meeting ID: 767 3142 9231 Passcode: 3WLSi1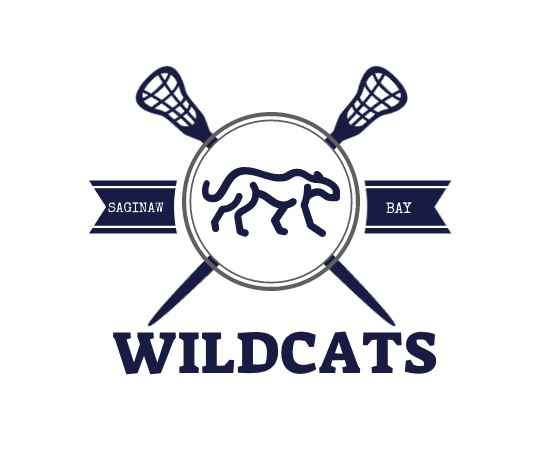 TheJGHS/Nouvel Lacrosse team would like to unveil the new jersey designs! Coach Kowalski will be scheduling an online team meeting soon to go over some items and then collecting jersey sizes and numbers. email Coach Kowalski at
aaron.kowalski@nexteer.com
for updates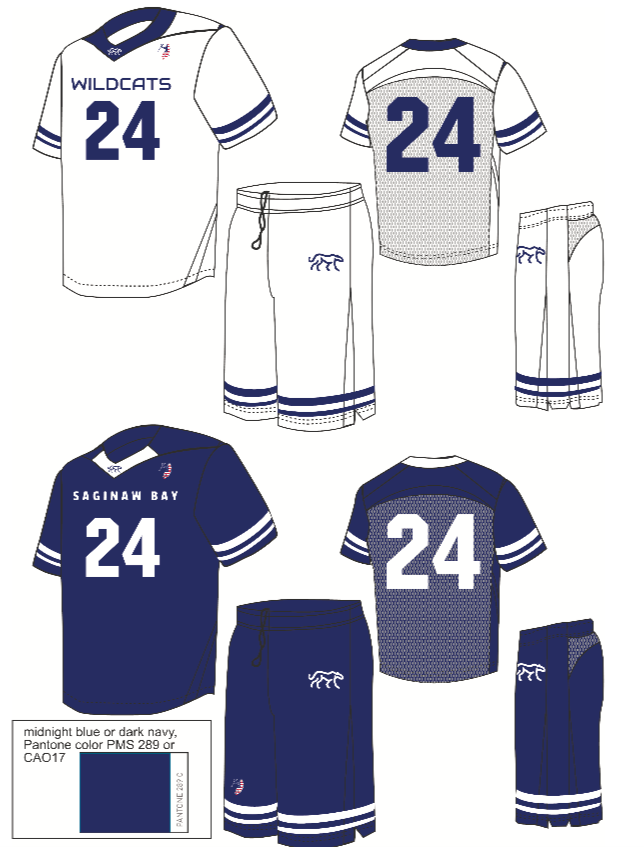 JGHS Varsity Swim Update: Road conditions are deteriorating in the Thumb. The other ISC swim meets for tonight have been rescheduled for tomorrow as well. In accordance, JGHS Boys Swim vs. Caro HS has been rescheduled to the same time tomorrow Wednesday January 27th.

Today our winter student athletes and coaches are sharing their voices for the restart of Winter Contact Sports by writing letters to our elected representatives and state officials. We applaud them for taking this initiative and also join with them in fighting to get our teams competing again! Today I sent the attached letter and communications to our elected representatives and state officials in support of our student athletes. I would like to thank Representative Timmy Beson for responding back to me immediately and joining our fight to get kids back playing again. It is clear he is a partner in Lansing on this with us. "Our student-athletes and coaches at John Glenn High School have done a remarkable job this entire school year to ensure the health and safety of our student-athletes by following all COVID-19 protocols including playing in facemasks, conducting daily temperature checks and submitting to daily health monitoring checks. We are proud to share that we did not have any in-season confirmed positive cases of COVID-19 among any of our active student-athletes to date. The scientific data shared with athletic directors by the MHSAA indicates that high school competitive sports are extremely safe in relation to COVID-19 and are detrimental to the physical, mental and social well-being of our students. We sincerely hope our students are allowed to play as we continue to implement all safety measures necessary to combat this virus."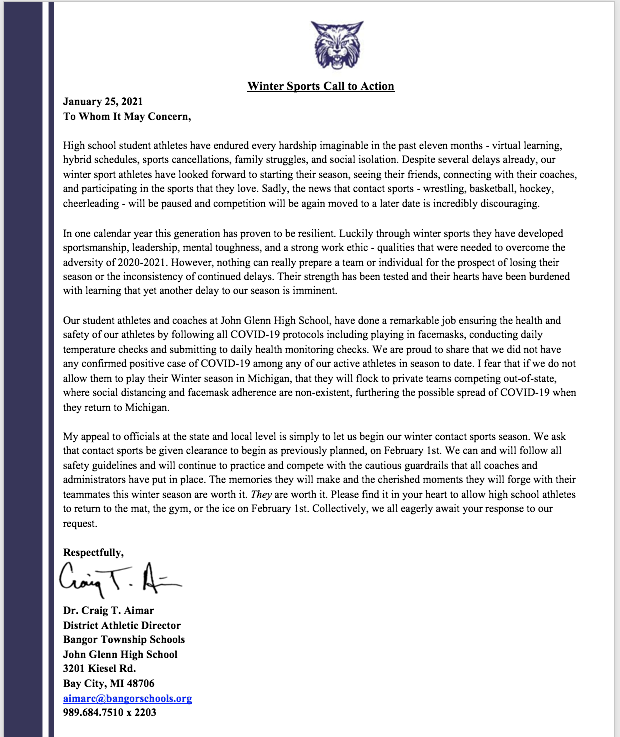 Sorry to share but with MDHHS order extension not allowing contact sports to begin until Feb 21st, the TVC is suspending the 4 game CMMS Boys Basketball and 4 meet CMMS Wrestling Winter Seasons. Tryouts for CMMS Boys Basketball are CANCELLED next week.

And the Tentative Girls and Boys Bowling Schedule is attached. JGHS competitions highlighted in blue