The Scholastic book Fair will be open Thursday night during conferences in the CMMS library. This book fair has many marked down books and other fun items to purchase. If you are a bargain shopper this book fair is for you.

Due to potentially hazardous weather conditions this afternoon and evening, parent-teacher conferences have been cancelled for tonight, Wednesday, February 20th.

The Scholastic Book Fair will be open from 5 to 8 tonight in the CMMS library during conferences. A lot of discounted items are available for purchase. Please stop by and support your school.

Please see the attached flyer for information on the upcoming CMMS Softball season.

Bargain Shoppers - Check out the book fair in the CMMS library. There are over 50 books that are $2.50 or less. Many are just $1.49. Also many fun items are marked down to only a dollar.

The Scholastic book fair in the CMMS library began on Monday. It will be open from 8:15 to 1:45 until Friday, Feb 22. It will also be open during conferences on Wednesday and Thursday 5-8 pm. The link for online purchases is:
http://www.scholastic.com/bf/christamcauliffemiddlesch1
Books will be delivered to classrooms, there is no delivery charge.

Congratulations to our very own Ms. Gradowski for being named as the "Citizen of the Year" for the city of Essexville. Ms. Gradowski received this award due to her outstanding commitment and dedication to her community. Congratulations Ms. G! We are very proud of you.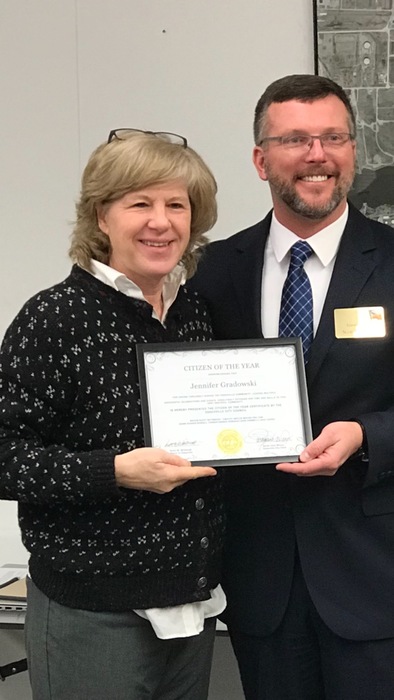 Check out our Family Focus on Habit 2: Begin with the End in Mind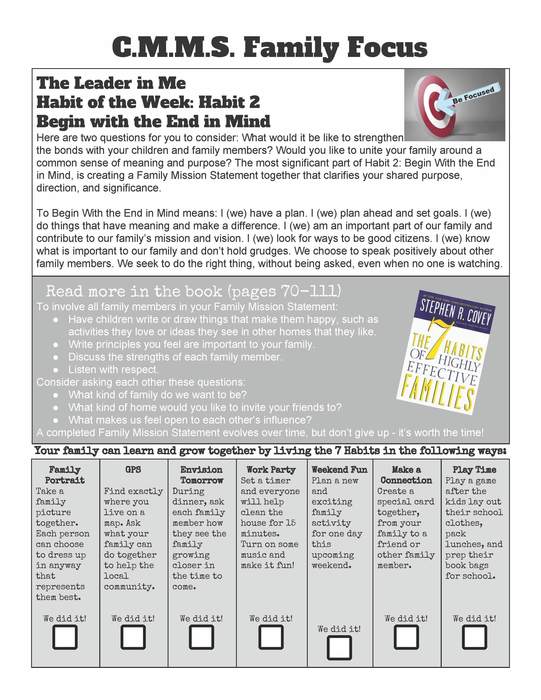 There will be a Scholastic Book Fair in the CMMS library on February 18 -22. The book fair will be open from 8:15 to 1:45 Monday-Friday , and during conferences on Wednesday and Thursday (5-8). If you would like to order books online here is the link.
http://www.scholastic.com/bf/christamcauliffemiddlesch1

Due to the several snow days we have experienced lately and the need to keep our students in the classroom, we have decided to cancel the 2nd marking period award assemblies. Students will still be recognized for their achievements and receive their certificates in their FLEX class.
Hi, 6th graders! Ms. G. here! After 3 more snow days, I've decided to offer the extra credit again! For those of you who have already completed 5 activities, you only need to do 3 more for more EC. Those who didn't do it last week need to complete 5. See Planbook, 2/8/19!

Are you getting tired of the schedule adjustment posts yet? I know I am. Here is the plan for next week. Mother Nature please cooperate!! Monday = Wednesday Block Tuesday = Thursday Block Wednesday and Thursday = Monday/Friday Schedule Friday = No School Mid-Winter Break (oh good, just what we need) P.S. - I will be asking the school board to invest in the type of bus in the attached image. :)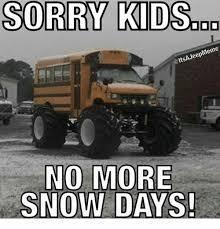 Here we go again. Snow Day #11. Here is the plan for Friday and next week Friday Feb 8th: Wednesday Block Monday Feb 11th: Thursday Block Tuesday Feb 12th: Tuesday Block Wednesday Feb 13th: Wednesday Block Thursday Feb 14th: Thursday Block Friday Feb 15th: No school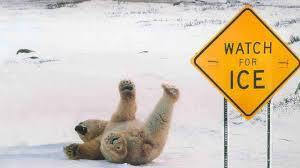 Happy Snow Day #10! We wanted to let everyone know that when we return to school tomorrow (hopefully) we will be running a Wednesday schedule. Friday will then be a Thursday schedule so that we don't miss any of the block days. See you tomorrow!!

Sunday, February 17th at Bay lanes students going to Washington DC or any 8th grader will have a Bowlathon to raise money for their trip from 12:00-3:00. Students earn 100% profit! The $6.00 fee for bowling and shoes is due by this Friday...February 8!

Just a friendly reminder that today (February 4th) is our last exam day and students will be dismissed at 10:30 am.

It looks like mother nature is finally willing to cooperate and let us back into the buildings. We will finally wrap up our last exam day on Monday and students will be dismissed at 10:30 am. We will follow a normal schedule the rest of the week. Block days on Tuesday, Wednesday, and Thursday with a regular schedule on Friday. Also, the second marking period award assemblies originally scheduled for February 8th and 11th will be postponed. Stay tuned for a make-up date for these events.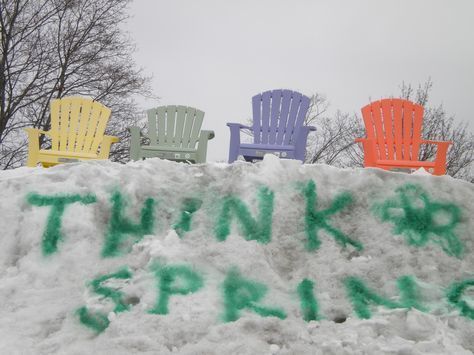 And from the ELA department, the original snow day challenge!!! #snowdaywritingchallenge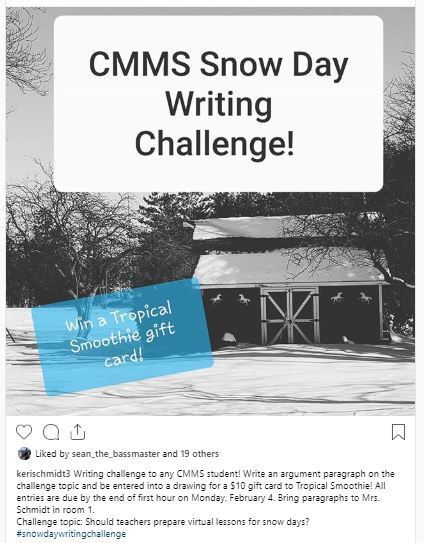 6th Graders! Check out Ms. Gradowski's Planbook for a fun Polar Vortex Geography Challenge! Extra Credit and prizes available! All 6th graders can participate - email Ms. G. if you need a copy!
gradowskij@bangorschools.org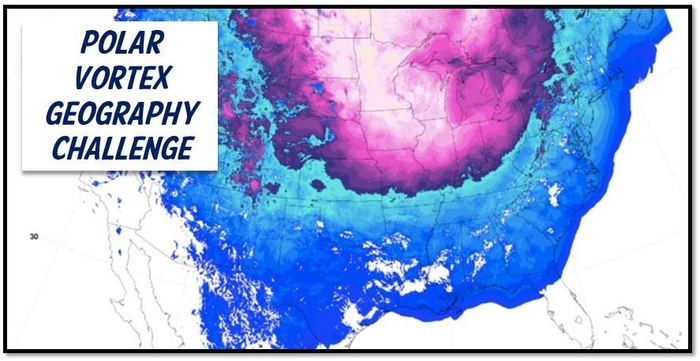 Due to the current weather conditions, CMMS will unfortunately have to postpone our Family Movie Night. We will let everyone know our new date as soon as possible. Thanks for your understanding and stay warm!