This Friday Coach Snider will be running a Google Meet for JGHS Girls Basketball during Flex to gauge interest in girls basketball this year and cover tryout times and conditioning times. Here is the link to the Google Meet:
https://meet.google.com/drm-xxky-ssp

CMMS Girls basketball tryouts will be next week Monday, Tuesday, Wednesday (October 26-28) from 3-5 PM in the middle school gym. Please bring gym clothes and your own water bottle. You will meet in the gym right after school is out.

If your student is interested in more information regarding this winter's Varsity & JV Wrestling season, please fill out the link below.
https://www.surveymonkey.com/r/27CRSSQ
This survey is ONLY meant for PARENTS.

CMMS Winter Sports (Wrestling, Girls Basketball and Boys Basketball) Update, please click on photo screenshot for full details.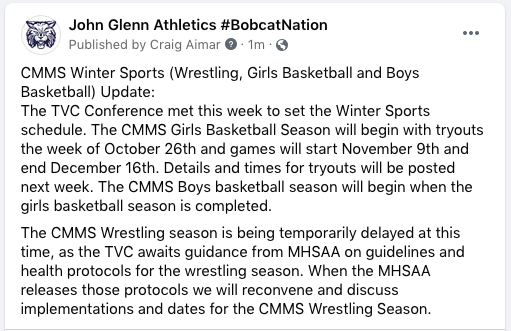 Fall 2020 Meet The Bobcats Part 2: Football, Girls Swim, Volleyball and Soccer. Varsity cheer Meet the Bobcats coming soon!
https://youtu.be/mzfNs7iXzkc

Boys Lacrosse begins their 16 day Fall conditioning workouts on Monday September 21st from 4 pm to 5:30 pm at the JV baseball field outfield grass. Equipment will be handed out to the boys playing lacrosse at 4 pm. Questions: Coach Aaron Kowalski at
aaron.kowalski@nexteer.com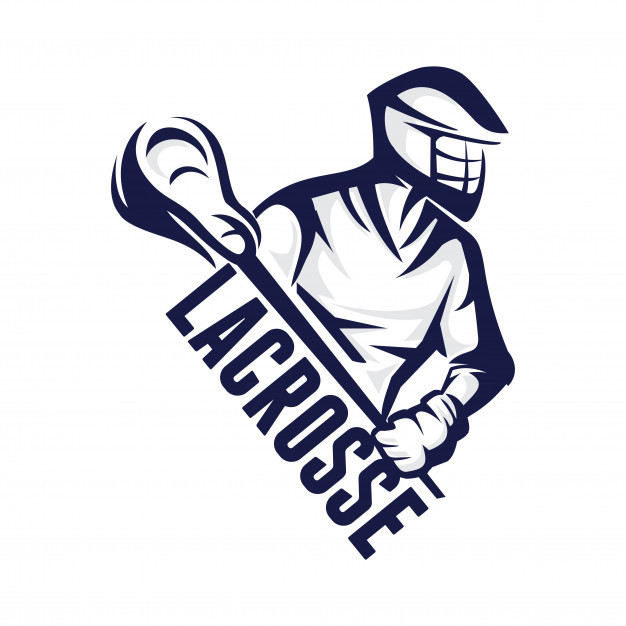 CMMS Pompon tryout information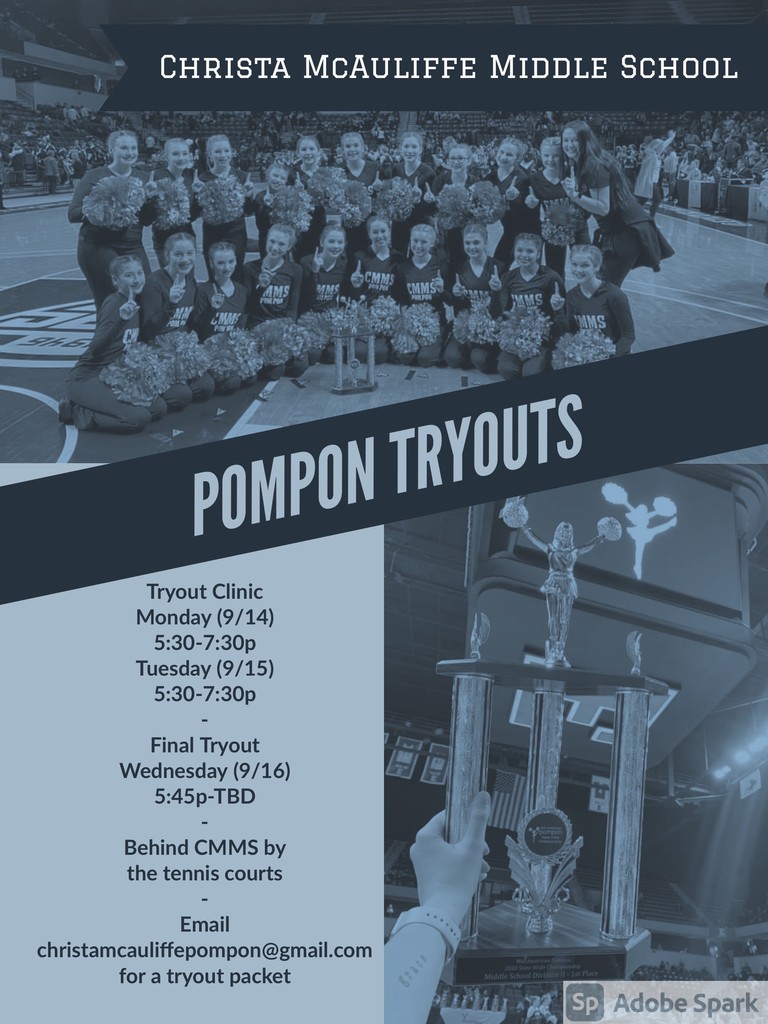 With the announcement yesterday from the Governor and the MHSAA, we are happy to move forward with the Fall Sports seasons of Cross Country, Girls Golf, Boys Tennis, Volleyball, Girls Swim/Dive, Boys Soccer and Football. We will adhere to all of the health and safety protocols that have been in place since June, including Daily Health Screenings and temperature checks of all of our student-athletes. We support any participation decisions families make for Fall athletic activities. There will be spectator restrictions in place for athletic events and we will convey the process for those in the next few days. There are still a number of items we are addressing at this time including working with the Tri-Valley Conference on Fall Schedules. Those will be released when available. We have a meeting with the Central Michigan Youth Football League next week for further clarification on youth football and schedules. CMMS athletic information and guidance will be released in the next week as well. I appreciate your patience, as information and guidance is ever-changing and coming at a fast pace right now. We look forward to a great and safe Fall season.


Any Fall athlete who either has their season postponed or wishes to participate with another team, please know that JGHS Cross Country and Boys Soccer are still accepting new athletes for teams. Email
kaczor00@hotmail.com
for Cross Country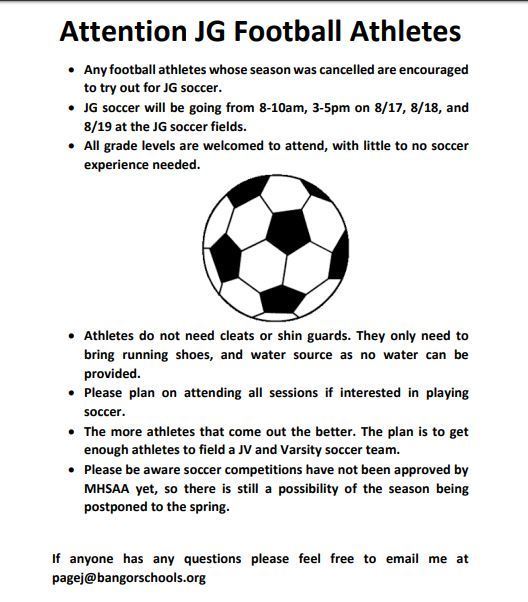 Cross Country Practice begin this week. Please see attached photos for full details and schedule. Email physical forms to
athletics@bangorschools.org
. Please bring your own water bottle and facemask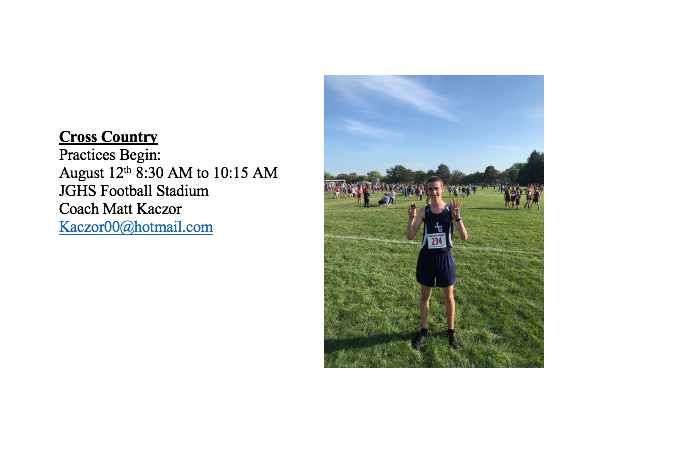 Part 2 Fall Sport Practices begin this week. Please see attached photos for full details and schedule. Email physical forms to
athletics@bangorschools.org
. Please bring your own water bottle and facemask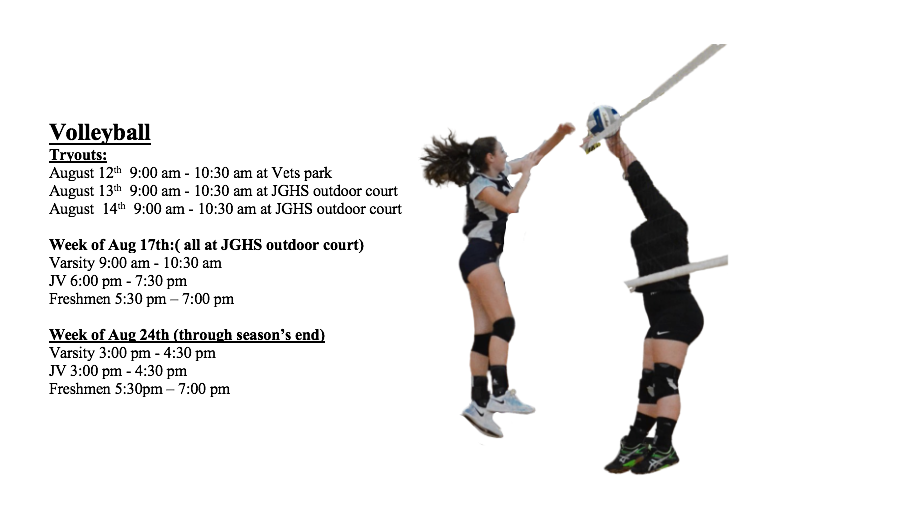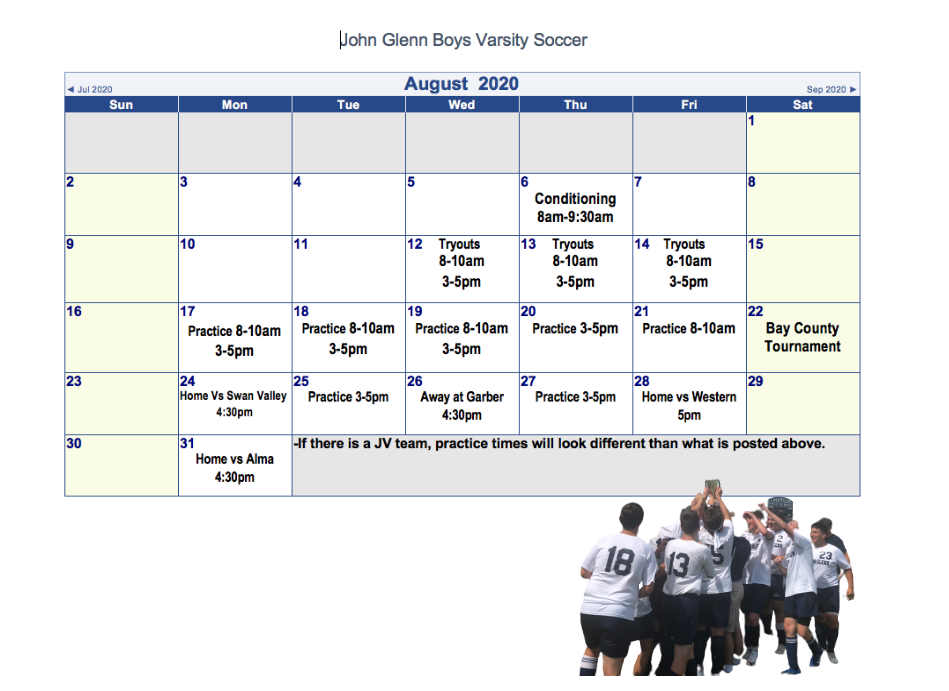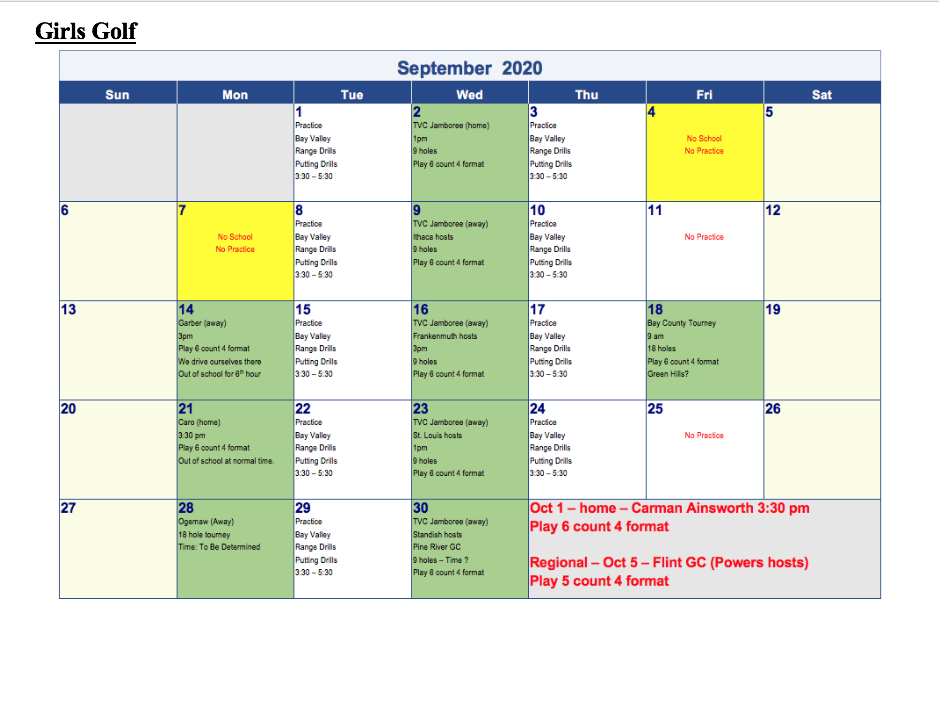 Fall Sport Practices begin this week. Please see attached photos for full details and schedule. Email physical forms to
athletics@bangorschools.org
. Please bring your own water bottle and facemask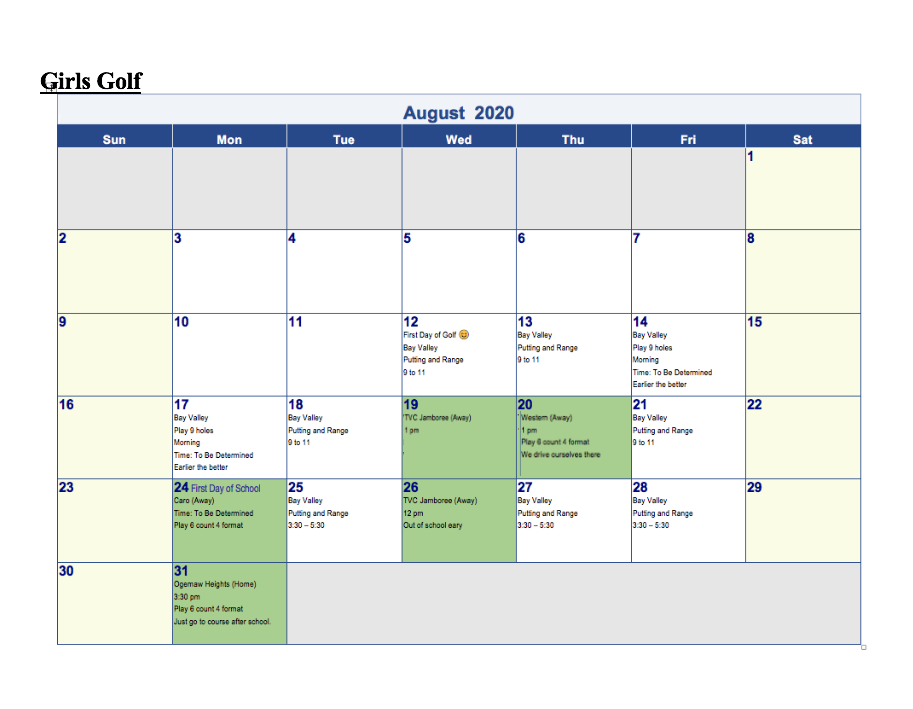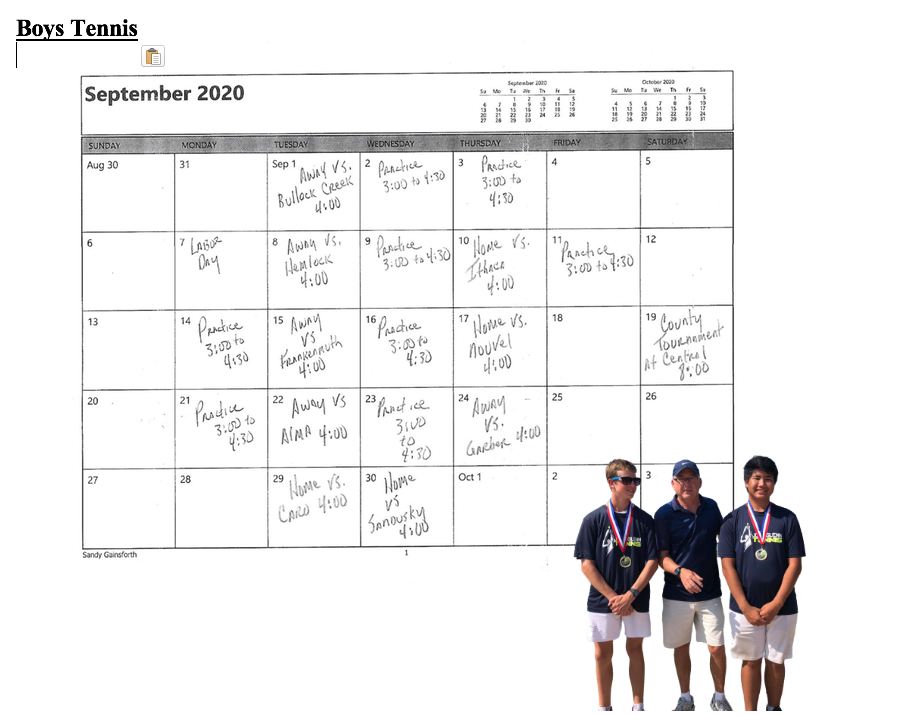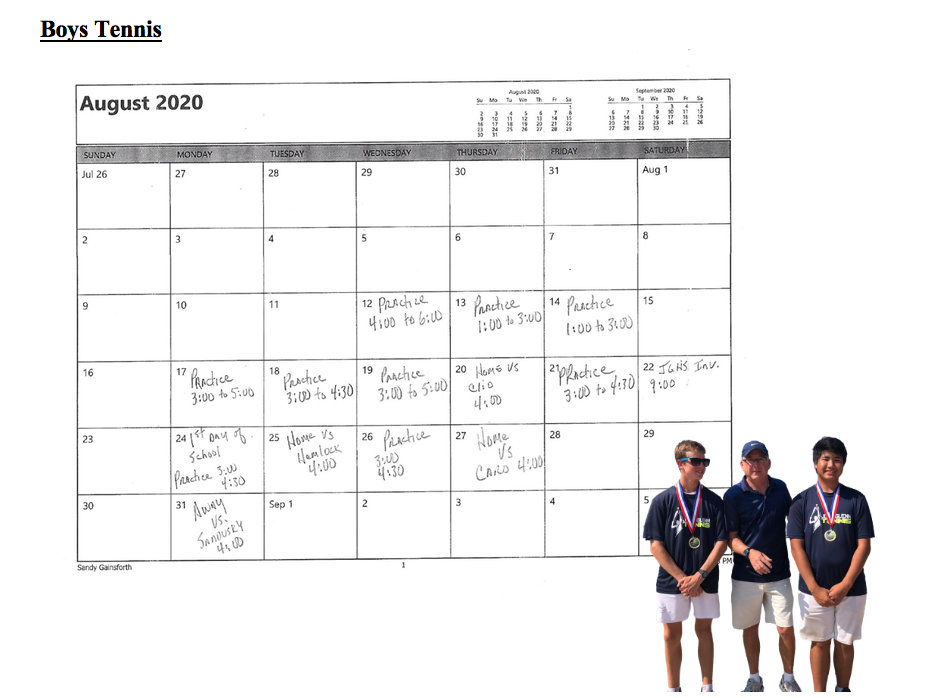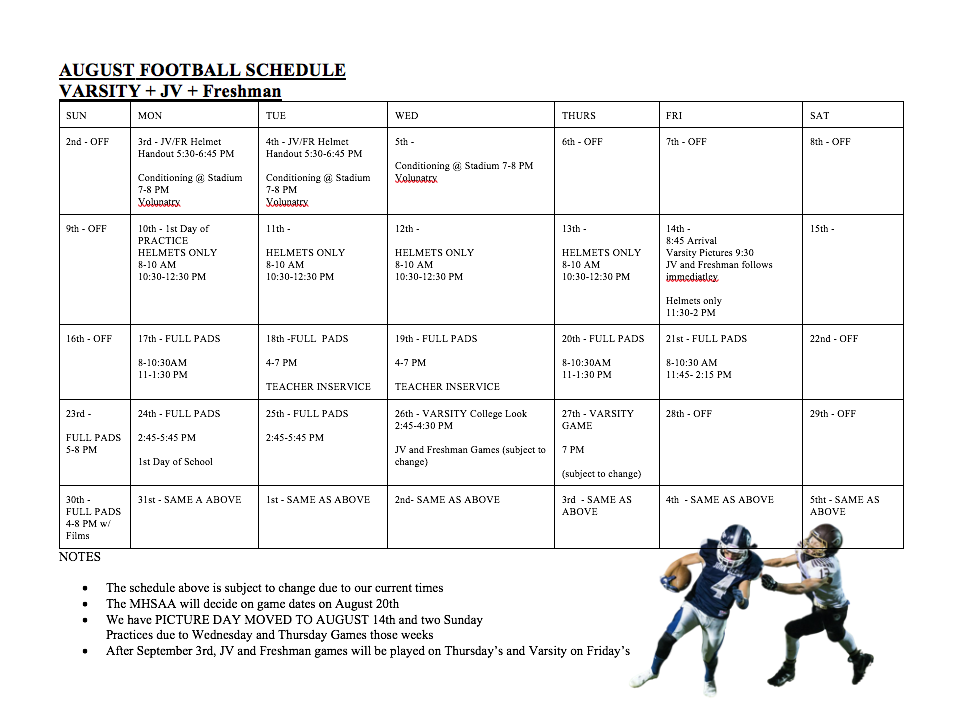 Looking for some JG Baseball gear? Their online store is open through July 12th. See the attached photos for ordering details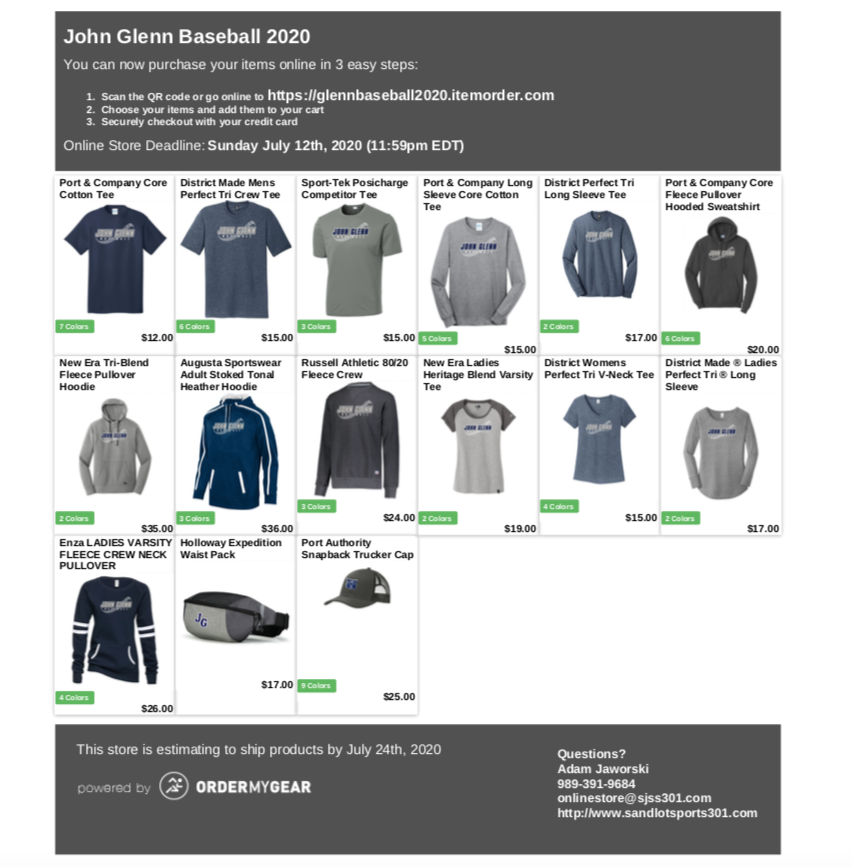 Updated Summer Optional Conditioning Schedule with Boys Basketball adding dates on the bottom of the attached screenshot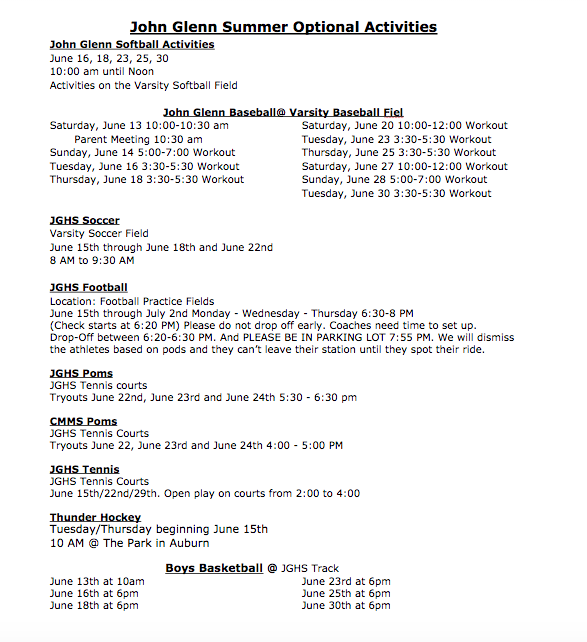 Additional Team Optional Conditioning: JGHS Tennis JGHS Tennis Courts June 15th/22nd/29th. Open play on courts from 2:00 to 4:00 Thunder Hockey Tuesday/Thursday beginning June 15th 10 AM @ The Park in Auburn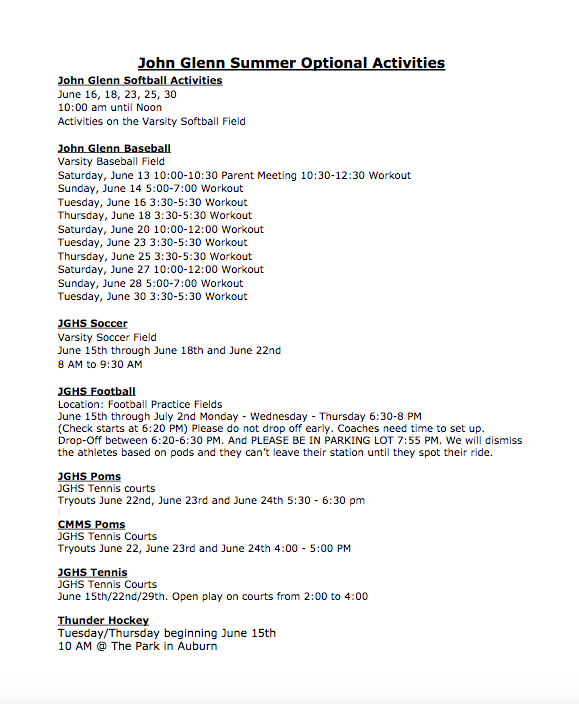 The Athletics Re-opening plan and team activity schedules for Summer Activities is posted in the photos. If you need further details and would like to contact a coach, you may find their email here:
https://www.bangorschools.org/o/athletics/staff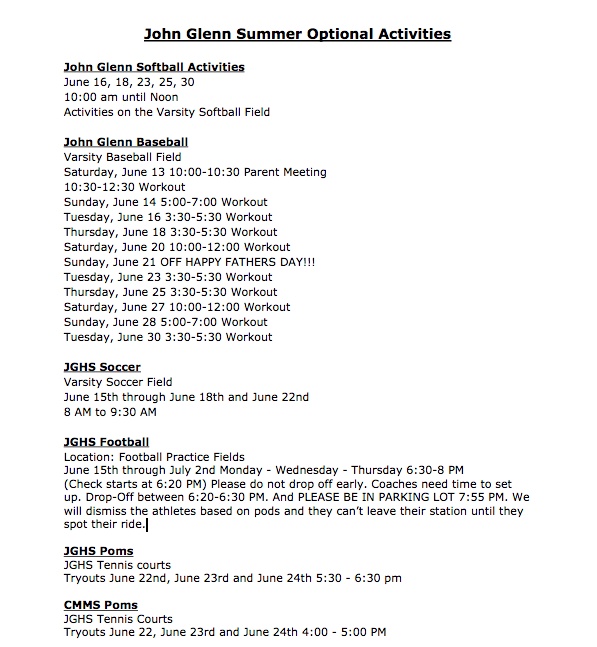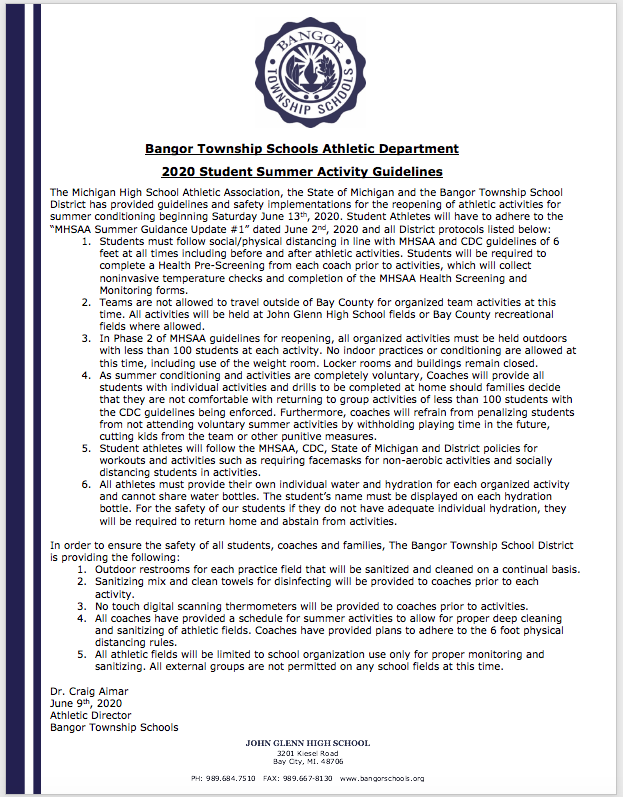 Summer Conditioning Update for Student Athletes: Michigan High School Athletic Association, the State of Michigan and the Bangor Township School District has provided guidelines and safety implementations for the reopening of athletic activities for summer conditioning beginning Saturday June 13th, 2020. Student Athletes will have to adhere to the "MHSAA Summer Guidance Update #1" dated June 2nd, 2020 and all District protocols listed below: 1. Students must follow social/physical distancing in line with MHSAA and CDC guidelines of 6 feet at all times including before and after athletic activities. Students will be required to complete a Health Pre-Screening from each coach prior to activities, which will collect noninvasive temperature checks and completion of the MHSAA Health Screening and Monitoring forms. 2. Teams are not allowed to travel outside of Bay County for organized team activities at this time. All activities will be held at John Glenn High School fields or Bay County recreational fields where allowed. 3. In Phase 2 of MHSAA guidelines for reopening, all organized activities must be held outdoors with less than 100 students at each activity. No indoor practices or conditioning are allowed at this time, including use of the weight room. Locker rooms and buildings remain closed. 4. As summer conditioning and activities are completely voluntary, Coaches will provide all students with individual activities and drills to be completed at home should families decide that they are not comfortable with returning to group activities of less than 100 students with the CDC guidelines being enforced. Furthermore, coaches will refrain from penalizing students from not attending voluntary summer activities by withholding playing time in the future, cutting kids from the team or other punitive measures. 5. Student athletes will follow the MHSAA, CDC, State of Michigan and District policies for workouts and activities such as requiring facemasks for non-aerobic activities and socially distancing students in activities. 6. All athletes must provide their own individual water and hydration for each organized activity and cannot share water bottles. The student's name must be displayed on each hydration bottle. For the safety of our students if they do not have adequate individual hydration, they will be required to return home and abstain from activities. In order to ensure the safety of all students, coaches and families, The Bangor Township School District is providing the following: 1. Outdoor restrooms for each practice field that will be sanitized and cleaned on a continual basis. 2. Sanitizing mix and clean towels for disinfecting will be provided to coaches prior to each activity. 3. No touch digital scanning thermometers will be provided to coaches prior to activities. 4. All coaches have provided a schedule for summer activities to allow for proper deep cleaning and sanitizing of athletic fields. Coaches have provided plans to adhere to the 6 foot physical distancing rules. 5. All athletic fields will be limited to school organization use only for proper monitoring and sanitizing. All external groups are not permitted on any school fields at this time. Please see the attached document for the June Schedules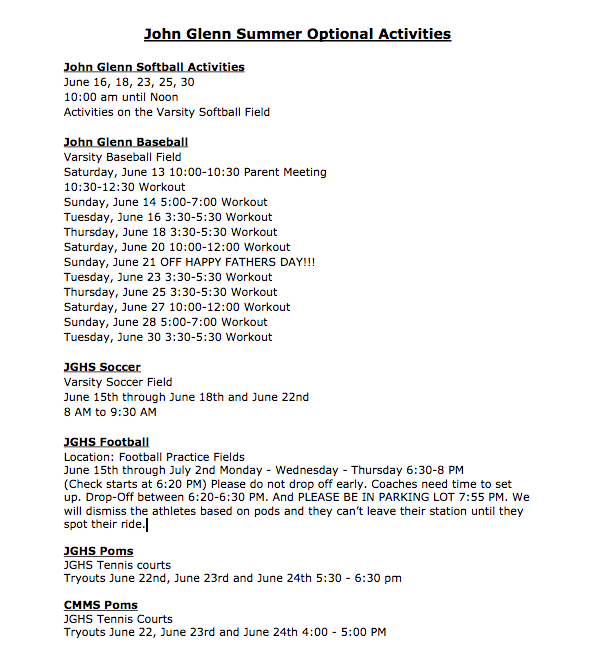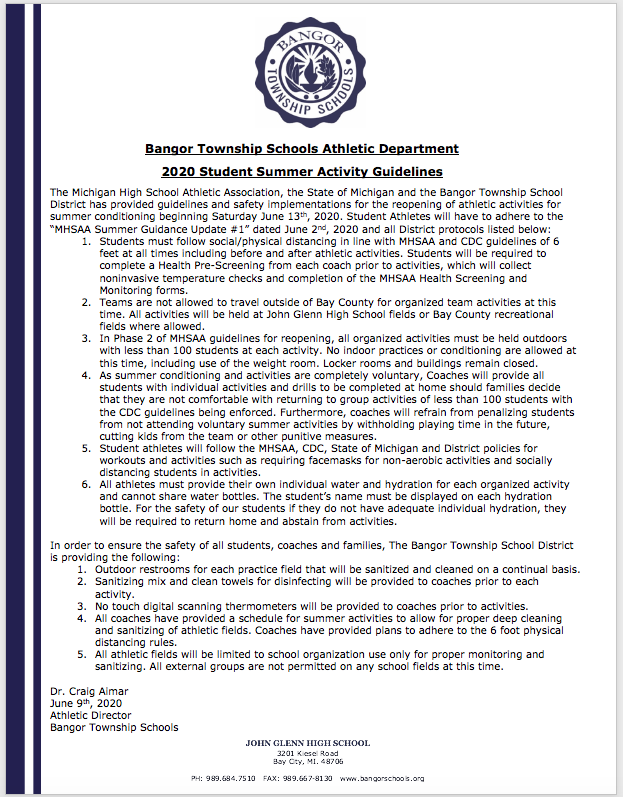 Great News - MHSAA has released guidelines for Member Schools to reopen athletic activities for Summer Conditioning. The Bangor Township Schools Athletic Department and the District Leadership Team have been working hard to review and implement the guidelines to allow athletic activities to resume with safety precautions in place. More details and student guidelines will be released next week, including communications and schedules from each coach for voluntary summer conditioning. I am happy to announce that Bangor Township Schools Summer Athletic Activities will begin Saturday June 13th for student athletes. All activities will follow State of Michigan and MHSAA protocols for the safety of our students, coaches and families. On June 13th, and for the time being in Phase 2 of MHSAA guidelines, all activities will be held outdoors as all indoor spaces are still off limits in accordance with the MHSAA. Further details will be shared next week.
https://www.mhsaa.com/News/Announcements/articleType/ArticleView/articleId/9148/Sports-Re-Opening-Update-Center