Good Evening Everybody! I have made a video that goes over the instructions for Registration next week. I hope that it clears up any confusion. Please let me know if you have any further questions.
https://youtu.be/a-97FRXXXXI

Please read the attached letter for information about the Graduation Parade/Drive-Thru Ceremony!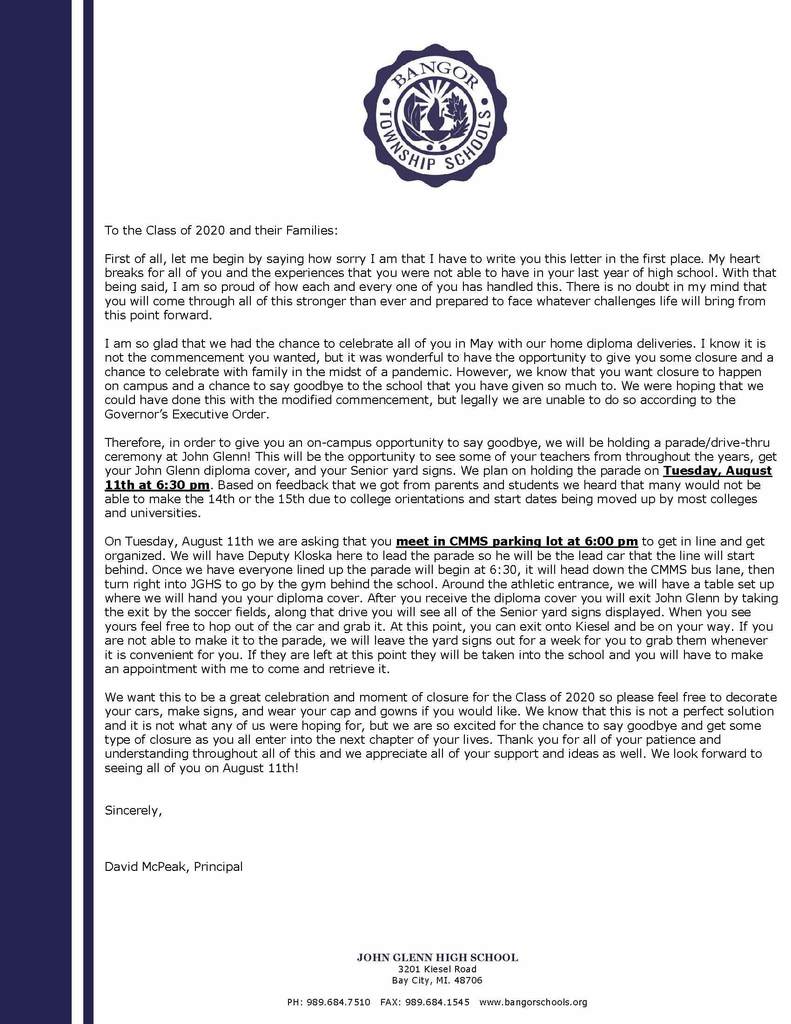 Please read our communication regarding our JGHS graduation ceremony scheduled for August.
https://5il.co/imo5

We know there are a lot of questions on when registration will be for this upcoming school year, at this time we do not have enough information from the state or the ISD to know exactly what this process will look like. We are hoping that we will have the information by the end of the month. We apologize for any inconvenience this may cause.

Congratulations to 40 of our seniors who received a Private Donor Scholarship from the Bay Area Community Foundation. We are very proud of you!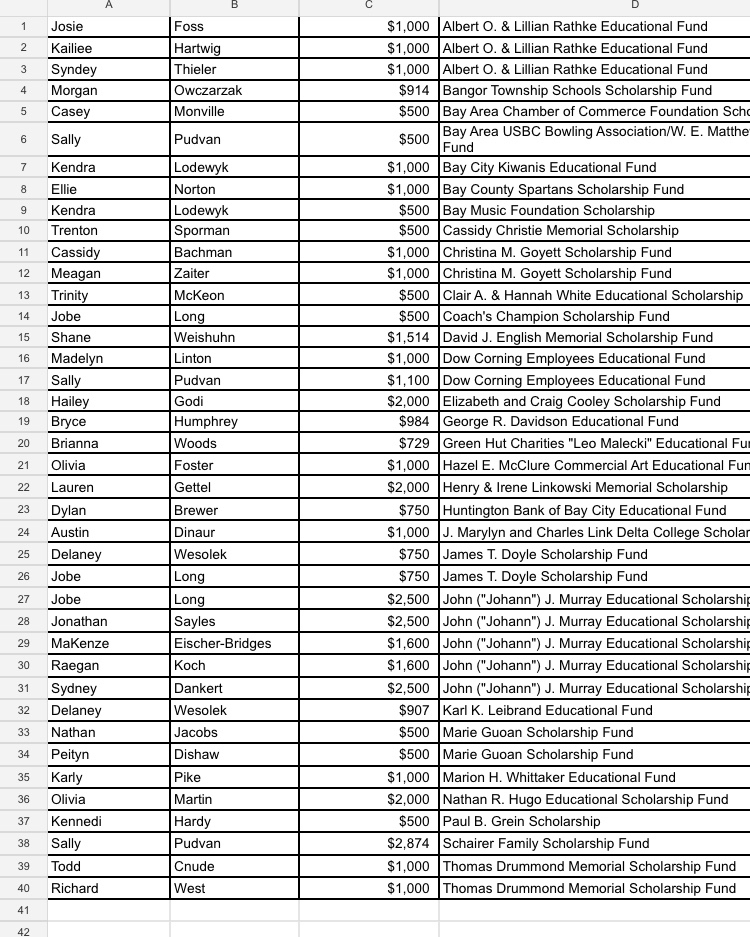 Congratulations to Delaney Weslock for being awarded the Rick Steele Memorial Scholarship from the Bay City Morning Rotary club!




SCHEDULING INFORMATION FOR INCOMING FRESHMEN Please return a picture of scheduling forms via email to
thompsonj@bangorschools.org
or if you cannot access your email, please drop off your form at Edison between the hours of 9am-3pm. There will also be forms available at Edison to pick up if you do not have one. A third option to provide your elective and flex options will be to complete the Google document found on Skyward and Facebook. * Complete the Google document if you had already turned your scheduling form into your teacher. Please complete google document or return forms by April 24th. Email questions to our counselor, Ms. Thompson, at
thompsonj@bangorschools.org
.
https://forms.gle/VMp5dYYWvqAd5FiV6

SAT/PSAT/MSTEP Practice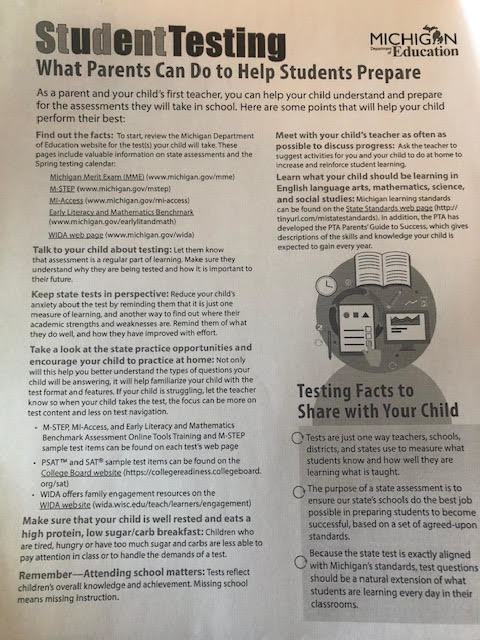 A flash sale for Bobcat gear! Check it out!


It was great to see our students get to perform their State Championship production of Urinetown for the whole student body!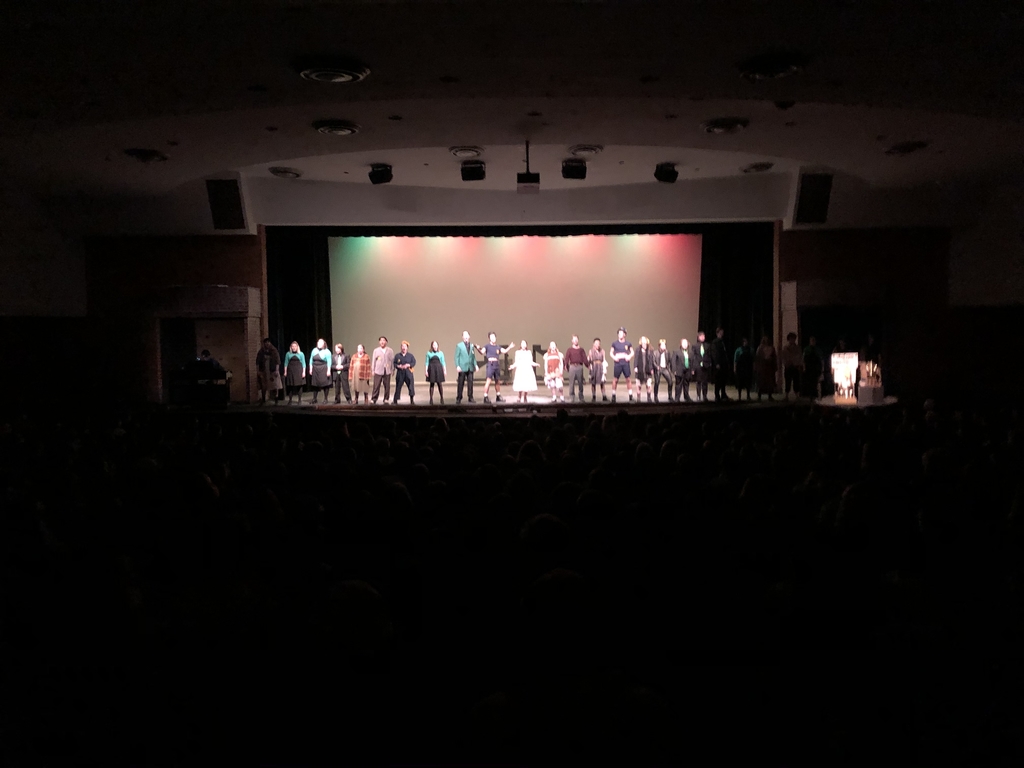 Parents of Seniors - MI deadline for FAFSA is March 1st. JG's current FAFSA completion is 55%. Please sit down with your student and finish up those FAFSA's. We have been completing the BACF scholarship applications in English classes. The FAFSA is required for the application.

Please consider nominating one of our teachers for the SVL Teacher of the Year award. Please fill out the following form to let us know why you believe the teacher you are nominating is worthy of the award. We are collecting email addresses to keep the integrity of the process. The teacher you nominate will not know that you nominated them. All nominations must be submitted by end of the day on February 3rd. Thank you in advance for recognizing the hard work of our awesome teachers!
https://forms.gle/bm8oq1e9hRMLmD6V6

First day of the 2nd Semester! Let's get off to a fantastic start!

Seniors - the application for the Rosa Parks Scholarship ($2,000) is now available at rosaparksscholarship.org. The deadline for filing is March 1, 2020. Scholarship winners will be announced in mid-May. If you have any questions or problems concerning the application, please email
info@rosaparksscholarship.org
.
For those Seniors attending Delta in Fall, Delta's private scholarships are now open. Scholarship window closes on February 6th.