We still have quite a few school pictures left in the office. If you haven't picked yours up yet, we will have them available through 2 PM Friday. We will then be preparing to mail them to the address we have on file, after the Thanksgiving holiday. Please call with questions.


Christa McAuliffe Families and Students, With the Board's decision last week to continue remote learning until January 31st, we wanted to take the opportunity to make some changes to our schedule based on communication that we have received from our students, families, and staff. We have attached the schedule for your convenience and we also plan on having it on the CMMS website for you to refer to. I would like to take this opportunity to highlight some of the changes we have made, and why we have made them. 1. We have heard loud and clear that the current schedule that we have been using makes it very hard to get help from teachers and get one on one assistance. We have also heard that because of the structure that sometimes it feels like you do not have as much time to work on schoolwork during the school day. Therefore, we decided to add 20 minutes onto Flex each day and we added an asynchronous/office hours day on Friday (more on that to come). We hope this will give more time to get caught up on work and get extra help from your teachers. 2. Friday is not a day off. Students still need to check all of their teachers' Google Classrooms to see if there is any work that is assigned. Your student's teacher may still post assignments, lessons, and videos on these Friday's so it is so important that they check every class on Friday. Students are not required to go to the teacher's office hours but this would be a great time to receive extra help. There are no live lessons that the students need to attend on this day. Teachers will be available during office hours in their Google Meet for their Flex class.  3. This schedule was made with the feedback of students, parents, and staff members.  4. While we cannot require our students turn on their cameras, it has become very hard for our teachers to teach to blank screens. Please encourage your students to turn on their cameras during the direct instruction portions of the lessons. This will go a long way to help the mental health of our staff and will help them gauge if students are understanding the material or not. Google Meets has a great new feature where it blurs the background.  That could be something that students could select if they so choose. Once again we cannot make this mandatory but it would be wonderful if you could help us out in this area. I know our staff would be extremely grateful.  We sincerely hope that this new schedule eases some of the stress that our students, families, and staff have been feeling during this period of remote learning. We believe that this new schedule will allow our students more opportunities to receive help from their teachers and a chance to get more work done within school hours. The other nice thing about this schedule is it will have consistency and will be easy to follow. The only adjustment that will be made is for Thanksgiving week on Monday, November 23rd and Tuesday, November 24th will both be a Monday schedule since there is no school that week Wed-Fri. As always please reach out to us if you have any questions or concerns and we will be happy to help you in any way that we can.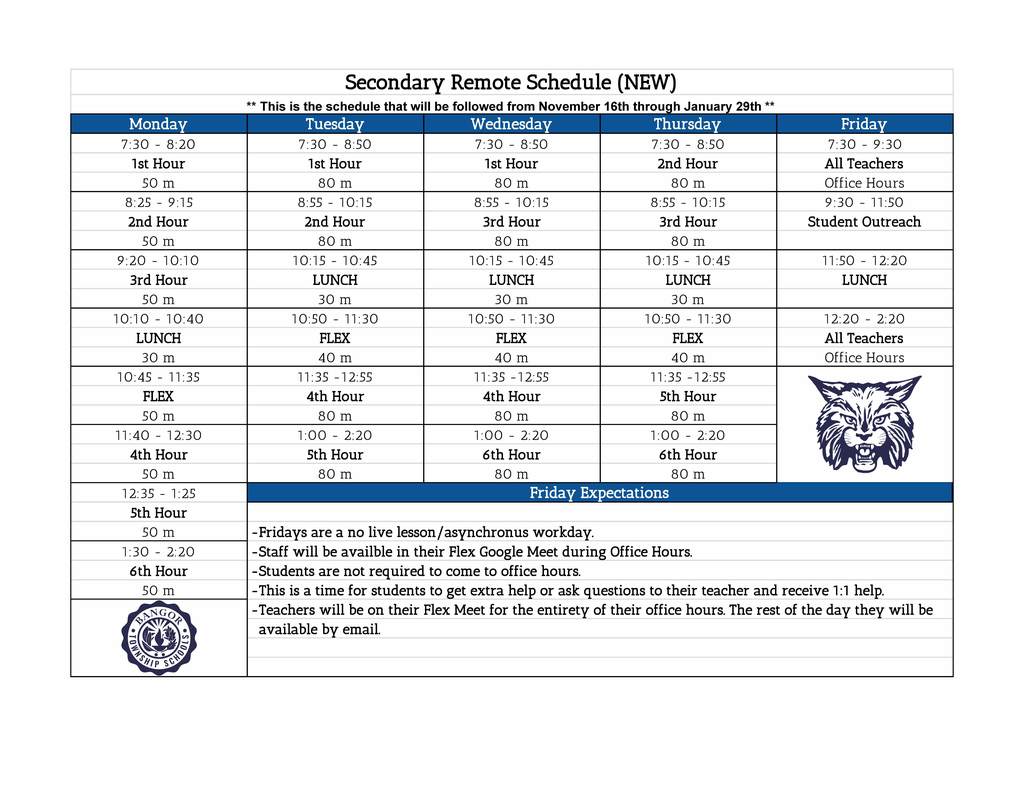 CMMS: This is a reminder that your Lifetouch School Pictures, as well as volleyball and cheer pictures, are available for pick up at school. You can stop in between 6:30 AM and 3:00 PM, Monday through Friday.
Picture Retake Day will take place on Tuesday, December 8th from 7:45 AM until 9 AM for those students who were absent on our original date, or don't like their first photo. Students will have to be brought to CMMS for their photos. Call the school with questions.
Hey CMMS! Lifetouch school pictures, as well as volleyball and cheer photos, are now available for pickup at CMMS. Tell us who your 1st hour teacher is and we will have your photos available between 6:30 AM and 3:30 PM, Monday through Friday. See you soon!

School lunches for Bangor Township students will be available for delivery to bus stops starting tomorrow, November 10th. The sign up sheet for meal delivery is located on the district websites.

CMMS Parents and Students: We wanted to let you all know that we will continue to follow the same schedule we followed last week and during the two weeks we were at the school for face to face instruction. We realized that there are a few adjustments that need to be made to the draft of the schedule that was presented during Friday's board meeeting. We hope to have the kinks worked out of the new remote schedule by mid-week. We want to make sure it is the best possible schedule for our students and staff and that it addresses the concerns that were identified in the first remote learning schedule. We appreciate your patience and flexibility in giving us time to make it the best schedule possible.

CMMS Parents/Guardians: As you are aware, we had three positive COVID cases over the weekend, and because all students had not been identified and notified as of Sunday evening, we had to go into remote learning on Monday at CMMS. We know now that, as a result of the three positive cases, we have 20% of our student population in quarantine. We were also notified today that four of our staff members have also been ordered to quarantine because of these positive cases. Therefore, due to the high percentage of quarantines, remote learning at CMMS will be extended through the remainder of this week. I want to again thank all our students and families for your patience and understanding during these unprecedented times. Please know we will continue to make the best decisions we can with the data and information we have, and that the basis of those decisions is always rooted in what is safest for our students and staff. Look for a further update from the district later in the week. Have a great evening.

CMMS Parents/Guardians: We received confirmation today of three separate positive COVID cases at CMMS. We are currently working on contact tracing with the health department. However, due to the high number of positive cases in our county, the health department will not be able to get us the names of those students that will be quarantined as a result of these positive cases until sometime on Monday. Therefore, we will be unable to contact those families in order to have them keep their children at home. As a result, CMMS will be in remote learning on Monday. Also, please remember that students do not have school on Tuesday due to teacher professional development. We do intend on welcoming students back to face to face learning on Wednesday of this week unless something changes. We understand the level of concern regarding COVID-19. We encourage everyone to continue following the public health recommendations and stay vigilant in our collective approach to this situation. We look forward to seeing all CMMS students back in person on Wednesday. Have a great evening and week ahead.
Tomorrow is Picture Day! All students will have their pictures taken even if they are not purchasing any photos. Photos may be ordered online at mylifetouch.com and use the ID # EVTJ7D3MS. We look forward to seeing lots of SMILES!!
The CMMS online store is still open until November 1st. Check out our wide selection of apparel and designs. You can check out our store at
https://cmmsfallstore.itemorder.com
and make a purchase. Never to early to start holiday shopping!!!!
Monday is Picture Day. All students will have their photo taken regardless if they are purchasing or not. You can order online at mylifetouch.com and use the ID# EVTJ7D3MS. Our school will receive a commission on every package purchased. Thanks for helping CMMS!!

This is just a friendly reminder that tomorrow, Wednesday, October 21st is a half day of school for CMMS and JGHS students due to Parent/Teacher conferences. Students will be dismissed at 10:30am.

CMMS girls basketball tryouts will be next week Monday, Tuesday, Wednesday (Oct. 26-28) from 3-5 PM in the middle school gym. Please bring gym clothes and your own water bottle. You will meet in the gym right after school is out.
Monday is Student Picture Day!! You may order online at
www.mylifetouch.com
and use our Picture Day ID: EVTJ7D3MS or we have order forms available on the table outside of the front office. This is a fundraiser for the school, so please consider purchasing. Thank You!

CMMS Parents and Students: Click on the link below for a one page document that contains links to the most important documents, resources, and information to help you prepare for our return to face to face learning on Monday, October 19th. Think of this as your one-stop-shop for information and documents that we have shared with you over the past several weeks. We hope this helps answer any questions you may have about policies and procedures upon our return to school.
https://docs.google.com/document/d/1qFHRYVo1mMnPqE7o3P7Oh2wPE5szWbFTvR9ocsdzxtg/edit?usp=sharing

Dear CMMS Families, As you may or may not have noticed on the district calendar, we are scheduled to hold Parent-Teacher Conferences on October 21st. Due to state and health department regulations, we will not be holding them in person this year. You are always able to email your teacher and communicate about your student at any time. Your child's teacher will also be reaching out to you at some point before the 21st to let you know their availability on that day. Teachers will be available via email or phone for a 6-hour time frame on the 21st for conferencing. We should also point out that due to conferences, students will have a half day of school on October 21st and will be dismissed at 10:30am.  Please let us know if you have any further questions. 

Fall Picture Day at CMMS will take place on Monday, October 26th.  Please see the attached flyer for more information on how to place your picture order online. A digital copy of the order form has been sent to your email that is connected to Skyward. If you have any questions about picture day please contact the main office at 686-7640.