Any current 10th grader interested in Early Middle College, please join me for an informational meeting on Tuesday February 23rd at 7:00 pm. The google meet link is below:
https://meet.google.com/jgn-resk-num
The meet will be recorded and on the website for those who can not attend.

Bay Arenac ISD Career Center 10th and 11th grade Visitation! Thursday February 18th, 2021 5:00-7:30. *Please limit your group size due to COVID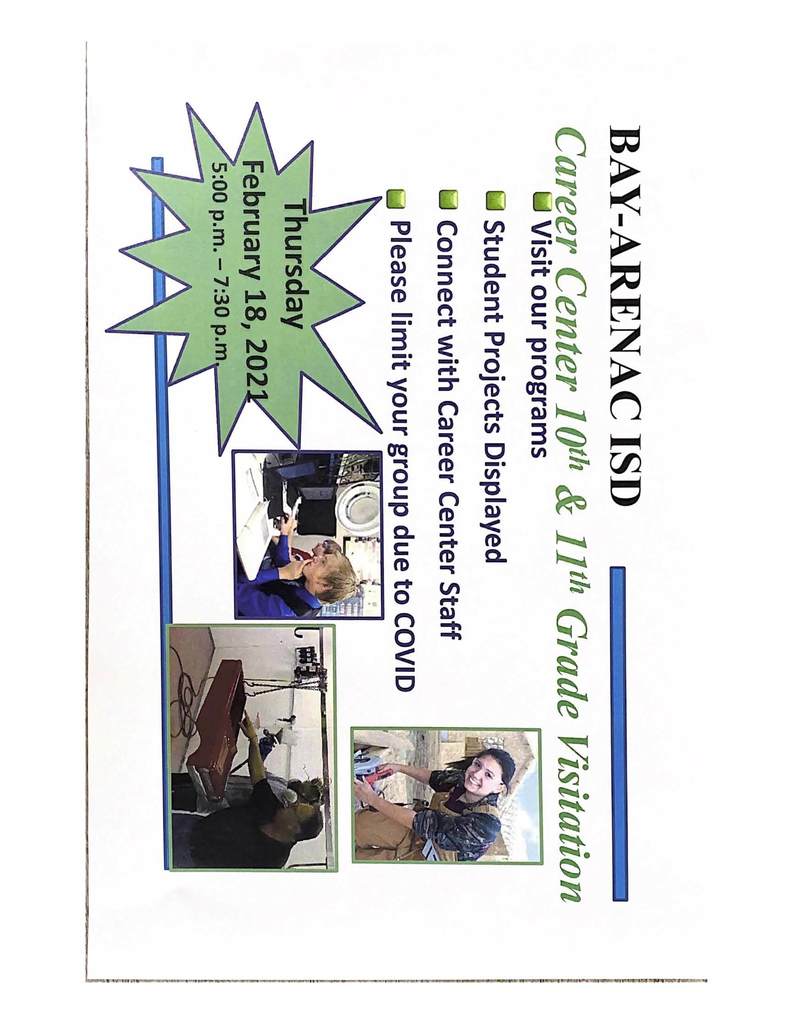 uAspire is hosting virtual financial aid events to help students and families complete financial aid applications. These events are free and open to everyone. FAFSA Walkthrough - Feb 25, Mar 16, Apr 27:
http://bit.ly/2M6GYKl
After FAFSA Walkthrough - Feb 23, Mar 23, May 4:
https://bit.ly/2YaOndZ
Aid Offer Walkthrough - Mar 10, Mar 30, Apr 14, May 6:
http://bit.ly/3sXv1Yf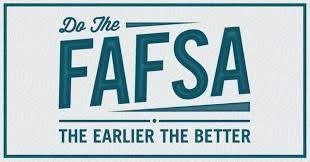 It is not too soon to get ready for dual enrollment for the 2021-2022 school year! Join us for an informational webinar about dual enrollment at Delta College, including time for questions. Students interested in taking college classes during high school at little to no cost will hear details about dual enrollment at Delta College. This event is primarily designed for students planning to be in grades 9-12 next school year and their parents. Why? Save money and get a head start on college When? Wednesday, January 20 at 5:30 p.m. Where? Register in advance for this webinar: go.delta.edu/dualexplore

JG Students and Parents - The Deadline is this Friday January 15th to purchase your fan cutout to be in the stands for home JG Boys and Girls Basketball and Wrestling season. Again at this time no spectators will be allowed so this is your way to have a presence in the stands and to ensure our kids see the Bobcat Nation support in the stands!
https://shop.myfanseats.com/order/johnglenn


Please consider making a difference by participating in our blood drive in December. Here is a link to the parent permission slip:
https://5il.co/ndon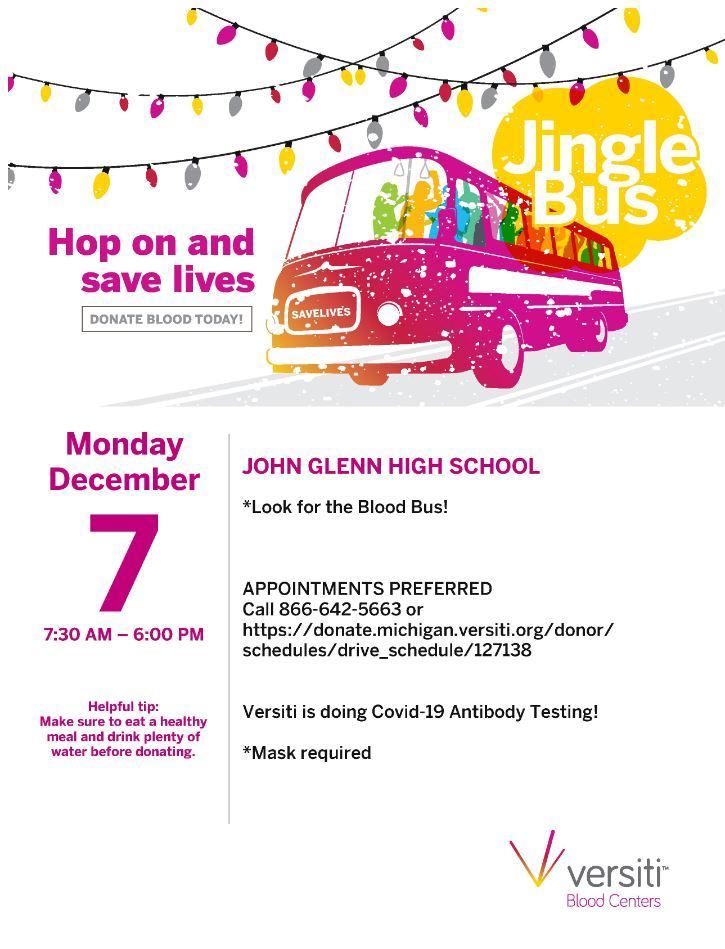 Amazing news! We won the @GreatSchools 2020 #CollegeSuccessAward! We're excited to celebrate our successful track record of preparing students to enroll in college and succeed once they get there.
http://bit.ly/2UXtOCX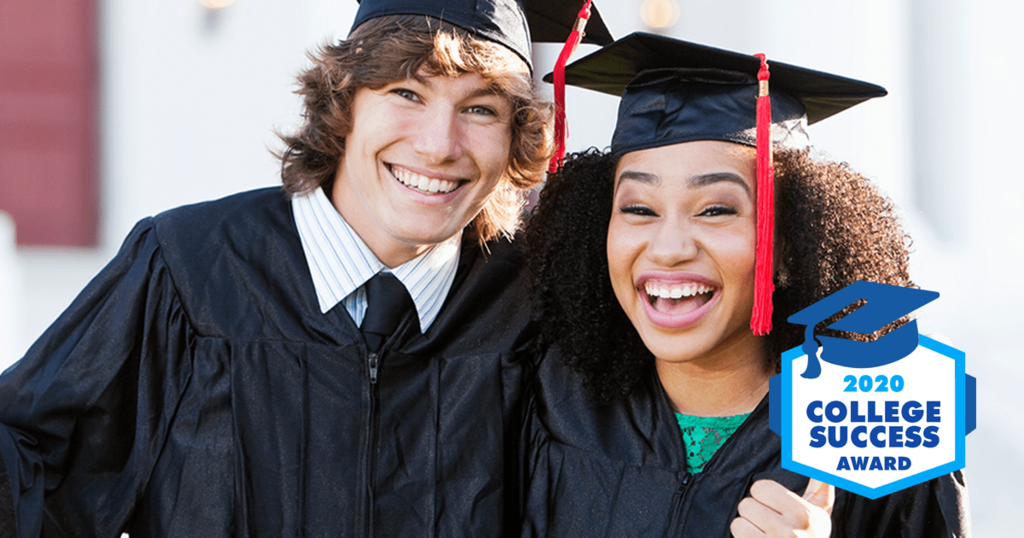 On Monday, October 26, 2020, 6:00 – 7:00 p.m., students will have the opportunity to learn about CMU academic majors, campus resources, the application process, scholarships, and ask any questions they may have. There will also be a panel featuring current CMU students from the Bay County area. I want to create a unique opportunity to include the entire family in the college search process. Joining students will be entered for a surprise raffle item! I have included the RSVP form for you to share with your students: CMU Admissions Virtual Admissions Night RSVP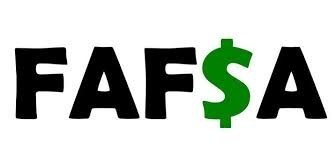 Bangor Township parents and students: The Boys & Girls Club is offering free memberships to teens for their after school programs. The fall session for all other age groups is $25. All ages Monday - Friday from 3pm-7pm, ages 13-18 from 7pm-9pm. They are also accepting volunteers, so this would be an excellent opportunity for students that need volunteer hours. Please be advised that they will be checking temperatures at the door, masks are required, and children will be asked a series of health screening questions. For more information, please contact Jared Pulicifer - Phone: (989)-892-6723, Email:
Jared@greatlakesclubs.org
.

As you have seen on the District Calendar, we are scheduled to hold Parent-Teacher Conferences on October 21st. Due to state and health department regulations, we will not be holding them in person this year. You are always able to email your teacher and communicate about your student at any time. Your child's teacher will also be reaching out to you at some point before the 21st to let you know their availability on that day. Teachers will be available for a 6-hour time frame on the 21st for conferencing. Remember that students have a half-day on that day because of conferences and will be dismissed at 10:30 am Please let us know if you have any further questions.

Attention Juniors, Class of 2022! Order for your class shirts has been extended to October 13th at 11:59 pm. Hurry and get yours ordered today!
https://jg20juniors.itemorder.com/

We know how intimidating high school can be for Freshmen and new students in a normal year, and we know that might be even more amplified this year because students have not had the chance to walk the building and get used to things. We would like to try and ease that stress and anxiety as much as possible before the first day of in-person learning. Therefore, we are pleased to announce that we will be holding a Freshman and new student Open House on Thursday, October 15th from 3 pm to 6 pm. This will be an opportunity for students new to John Glenn to walk the building and learn where their classes are and familiarize themselves with the building before the first day of school. Here are a couple of important reminders for the Open House: 1. Anyone entering into John Glenn High School must wear a mask, no exceptions. 2. Students will only be allowed to be accompanied by one guest. 3. Schedules will not be handed out, students must print them ahead of time or have them accessible on their phone. 4. All students and guests must enter in the back of the building at the athletic entrance or through the commons' doors in the Courtyard. No other entrances will be open at this time. We cannot wait to welcome you back into the building and we look forward to seeing all of you on the the 15th!

Please come help support the blood drive.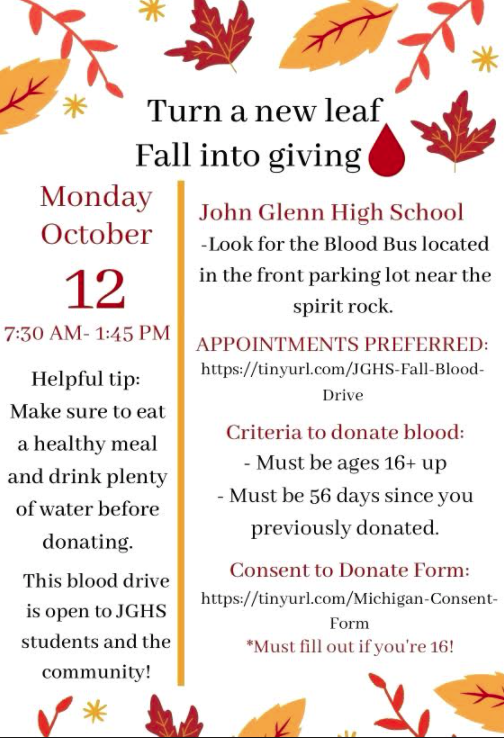 Dear John Glenn Students and Families, Thank you for another great week of remote learning. We are so proud of how hard all of our students and families are working to make this time successful. This week has brought news of us returning to in person learning on October 19th.  As the Principal of the high school, I wanted to reach out to you and let you know that we have been working extremely hard over the past few months in preparation for this decision. Our team at John Glenn has been working hard to make sure that we have been  ready to welcome back students at a moment's notice. When students come back to the building they will notice hand sanitizer stations all around the building, desk dividers in every classroom, hallway markings to help with traffic flow, and they will even be provided a John Glenn mask during the first week! There are many more details and procedures that we have laid out in our Return to Learning Plans and Procedures Document. Please read it over and let us know what questions you may have. We will have more details and announcements in the weeks to come. Please know that we may add and adjust this plan as needed. My main reason for sending this out is to let you know that we are ready to provide a safe and top-notch educational experience no matter what is thrown our way. We want you to rest assured that your student will be returning to a safe environment. We hope that you have a wonderful weekend and as always please feel free to reach out if you have any questions. 
https://docs.google.com/document/d/1wgtRR5SSEu1JIGhew_wpQ7cA-f--EjjHQZGSBZdqMio/edit?usp=sharing

This Friday, October 2nd is scheduled as a half-day for students and it will be an independent workday with no live lessons. Teachers may be providing independent work for students to complete on Friday and will be available to answer questions and provide academic support. Teachers will be available from 7:30 to 9:00 am in their Google Meet for their Flex class. If a student needs support from a teacher they will need to make sure they access the Flex class in Google Meet for that particular teacher as we will not be following an hourly schedule on Friday. If you have any questions about this format for Friday, please call the main office at 989-684-7510